If you were unlucky enough to create a Be Naughty account, then chances are great that you've finally had enough of it. It shouldn't be that surprising. They're nothing but a scam site after all. They've never operated like a real dating site and they never will. They put all of their time and effort into creating fake profiles to send you dozens of spam messages.
As you already know, you can't respond to any of them unless you pay to upgrade your profile. Naturally, after you've done that, you find out very quickly that it was all a lie. The messages were only there to trick you into thinking that there were real people here. The vast majority of the profiles are fake and the company knows it. They've been running this scam for years and they have no intention of ever stopping. As long as the internet exists, Be Naughty will exist and try to rip you off. Oh, and if you don't know about this site in general, then you need to read my review of it.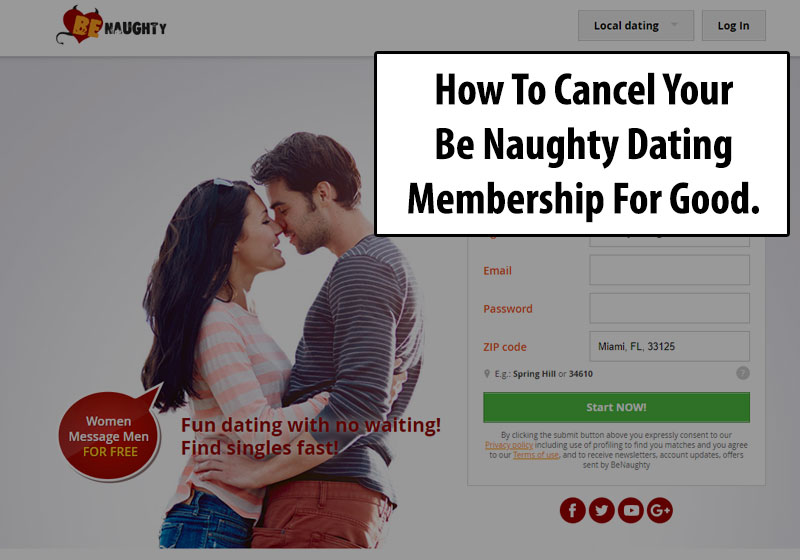 How To Quickly Delete Your Be Naughty Dating Profile
When you finally decide that you've had enough, here's how you delete your profile:
1. Log in to your profile
2. Click your photo in the right-hand hand corner of the page.
3. Click on My Settings
4. Scroll to the bottom of the page and click on Remove Account,
5. Type in your password when the site asks for it.
6. Scroll all of the way to the bottom again and click on Remove My Profile
7. This is where they ask for a reason. Tell them that you don't like getting scammed.
8. Next up is a question about whether or not you really want to leave. Click Yes.
9. Click Confirm Removal
10. That's it! Your profile has now been removed from the site. You never have to worry about this terrible place again.
If you want to cancel your paid monthly subscription, things will be a bit more difficult. It's not so much a matter of following their steps as it is directly emailing them. You're going to have to send a message to support@benaughty.com.
Be direct and don't mince words.
Give them your username and email and tell them to cancel you. If you don't want to email, you're going to have to call. The number is 1-800-489-6091. This is intentionally meant to take you out of your way so you'll be more likely to just decide to forget about it. Don't do that. Put in the time and get yourself free of this site.
Finding out that you've been scammed is never any fun. The best thing that you can do is separate yourself from the people doing it and move on. The longer you remain a member, the more money you're going to have to shell out to them.
If you ever get the feeling that things are a little too good to be true, they probably are. Trust your instincts and never get mixed up with bad companies. There are more than enough good hook up sites out there to find what you're looking for. I suggest giving this "snap" dating site a shot.
More Sites Like BeNaughty & Related Articles
Here's a list of articles and sites like Be Naughty that you might want to check out. Trust me, you'll thank me for this reading recommendation.