I've covered the ins and outs of a site called Snap Fuck Me aka SnapFuck.Me. If you've seen this site or you're planning on planning on joining, then you're making a big mistake! Please, please, please be sure to read this review and understand everything there is to know about this site before joining. Snap Fuck Me will fuck you over, plain and simple! My review will explain everything…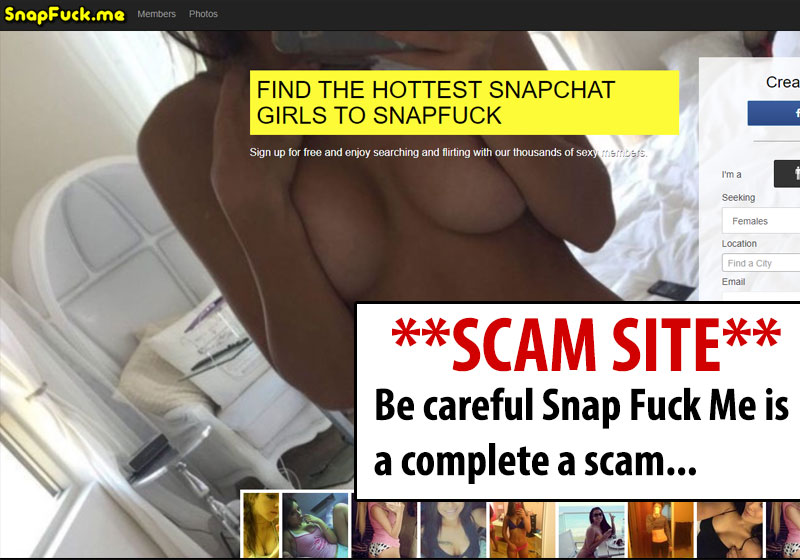 Snap Fuck Me Is Just A Scam
It's a great thought to think that women are desperate to talk to you. It's even better to believe that they're desperate to have sex with you. Sometimes that's the case for some men. It's just not the case for most of them. It doesn't take much to realize that it's just a fantasy. That's why there are so many sites out there trying to sell you that fantasy.
It would be fine if they actually gave you something worthwhile, but that's rarely the case. What you usually get are sites that trick you into thinking they're filled with those women who want to get together with you. That's what's happening with Snap Fuck. This is a site that will do whatever it takes to get you to think there are real women on the site and that you should be paying to talk to them.
Create A Profile To See It
If you want to get a sense of what's going on, just make a free profile. Make sure that you don't enter in any information about yourself at all. You don't even want to upload a photo. Just sit back and watch what happens.
You're going to start getting a lot of attention. Women will try to friend you and they'll be checking out your profile constantly. They'll even be sending you messages. That's just the scam kicking in. No women are going to be trying to friend a profile with no information on it. Just ask yourself if you'd do it.
You are not going to try and talk to women who you can't see. It would just be a waste of time. It's happening here because the profiles are all fake. They're created and run by the site to trick you into upgrading your account so you can respond to them.
Look At The User Photos
If you need more proof, just pick a few of the profiles and run a reverse image search on the pictures. It's free and will only take a few minutes. You can do it right through Google. It's going to search the internet to find the pictures and let you know if they show up anywhere else. What you're going to see is that all of the profiles pictures are from porn sites. They've been taken by the site and put up on fake profiles to get you to give them you money.
Conclusion: Just Skip Snap Fuck
There's no reason for anyone at all to sign up for Snap Fuck. It's just a waste of time and a scam site. There isn't a single real woman on it. All of the profiles are created by the site to send you fake messages and that's it. There are plenty of other sites on the internet to check out instead. You might just find one that can actually give you what you're looking for. You're never going to be able to find it on this site, no matter how hard you try.
Other "snap" sites to read up on…