Have you ever heard of a site called MakeItNaughty.com? It's one of the traditional scam websites that exists by the company Timespace Holdings Limited. It's a somewhat (actually very, I should say) deceptive dating site that puts on quite the front for millions of uneducated consumers.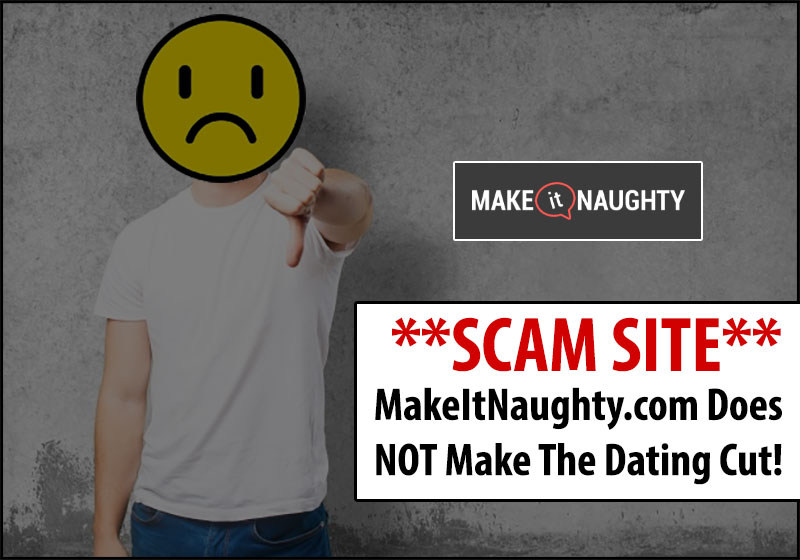 My Experience Using MakeItNaughty – DO NOT DO IT!
I've covered everything front to back that you need to know about this awful dating website. It's all written below, just read it and weep – if you already whipped out your credit card!
Overview
MakeItNaughty uses all of the usual tactics to try and scam you out of your money. Nothing is new here, but it's worth mentioning how massive this company is. They have tons of sites that all run the same scam.
In fact, they all have the same profiles as well. That's because they're the ones creating them and all they have to do is move the data from one to the other. Once one site starts getting less use because the scam becomes clear and people leave, they just start a new one. The profiles get copied and the scam starts all over again.
Creating A Free Profile Tells All
If you want proof, all you have to do is make a free profile. Make sure you don't add any information about yourself at all. What happens next is all of the proof that you need. You're immediately going to start getting messages from women.
They're going to be commenting about everything from details on your profile to how great your picture looks. Naturally, it's all a lie because you haven't uploaded any of that stuff. Yes, this is where the scam kicks in and it's never going to ease up unless you make a really big mistake.
Reverse Image Searches
What's actually happening is that the profiles that are messaging you have all been created by the site itself. The people that you see on them have no idea what's going on. In fact, if you want to do a reverse image search on the pictures, you're going to see them all over the internet.
What's more is that you're going to find them on plenty of adult video websites. That's because the site has purchased them from those sites. They've simply made up fake information and pasted the picture of a stranger on the profile. It's all done to trick you into upgrading your profile.
Messages Sent From The Company (No Communication)
What you're going to notice about the messages is that you can't respond to a single one. If you want to do that, you're going to have to upgrade. If you do that, they're all going to stop.
They only existed to get you to pay in the first place. Now that you've done that, they don't need to worry about you. Your money is already safely in their accounts and they can move on to the next person. It is how this scam always plays out and it gets way too many people on a daily basis.
Conclusion: MakeItNaughty.com Is Bad, Really Bad, So Stay Away!
There's nothing for you on MakeItNaughty. The site is a total scam and that's all that it ever will be. No matter how much you want it to work for you, it never will. There are no real people to talk to at all. It's all one big illusion that's been created to trick as many people as possible.
Tons of sites run this scam and it's never going to be going anywhere. If you see the things listed here on any site, turn around and leave right away. You'll be much happier with your money. Either that or just give this network a try here and thank me later!