If you're thinking about joining InstantHookups.com, then I'm going to politely suggest that you hold off for just a moment. See, there are some things that you need to understand about dating sites…
They are NOT ALL created equal and given that's the case, you need to understand exactly where InstantHookups falls before joining the network. Again, I've spent my time doing the research and wasting my money so that you do not have to. That's exactly why I'm suggesting that you take the time to read this review in full. Definitely, do not join until you read everything I have to share.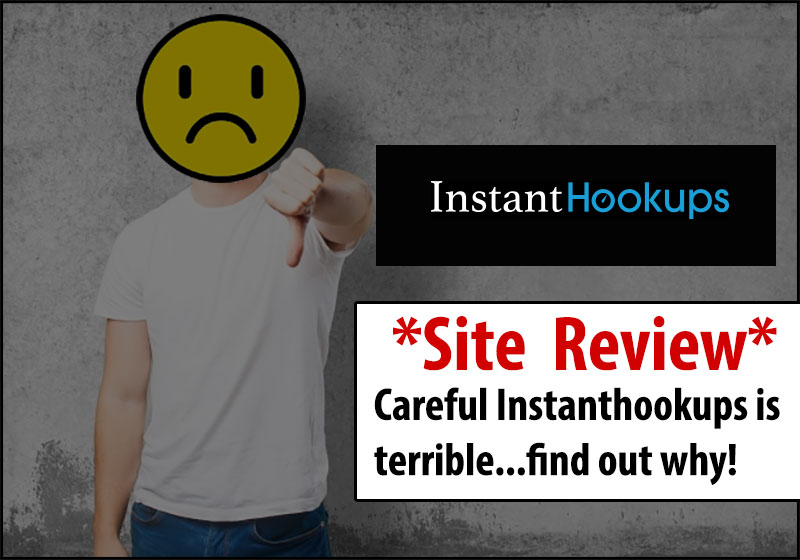 My Investigation Using InstantHookups For A Month
There's no point in me wasting time here. None at all. Here's what you need to know about the InstantHookups.com website. I'll just come right out and say it, Instant Hookups is one of the worst sites on the Internet. They'll stop at nothing to try and get your money from you.
It All Starts With The Profile
From the very second that you make your profile, they try to scam you. You're told that you have to give them your credit card information in order to verify your age and nothing else. You're assured that you won't be charged a dime, but it's all a lie.
All you have to do is look below and you'll see that you're also signing up for several porn sites that will start charging you immediately. If this were a legitimate site, they wouldn't have to trick you into spending money on their sponsors. The more people they can trick, the more money they get paid by those porn sites. They're then able to continue operating and separating even more people from their money without their knowledge.
Messages Come Rolling In
If you make the profile, you're going to start getting messages immediately. All the women will be hot and they'll be begging you to have sex with them. At least that's what you'll be thinking.
The kicker…
You won't be able to read the messages or respond to them unless you upgrade your membership and give them even more money. It's a very common scam that a lot of sites use and it takes people for millions of dollars every single year. All you can do is be cautious and avoid sites like this altogether to keep your money from them.
Images Are Bogus AF
If you're still not convinced, all you need to do is check out the images attached to the profiles. Do a reverse image search and you're going to learn very quickly that they're posted all over the Internet. That's because the profiles are created by the owners of the site and have never been run by the real women they claim to be.
They only exist to send you the fake messages that you can't read unless you upgrade your profile. Once you do that, they're all going to stop and you'll be left with nothing but bots all around you and no one to talk to.
No real women have ever used this site and they never will. It's all been crafted to give you the illusion that it's a good idea to spend your money and that's all that it will ever be, no matter how badly you want it to be real.
Final Thought: Stay The Heck Away
There's no reason at all for you to visit this site. You're just going to end up losing out. They don't have anything to offer; you'll only be wasting your time and money. If you really want a good hook up site, there are plenty of them out there.
Sites like this only work to give them all a bad name, and ruin your chances of ever getting lucky from a real one that works. Just do your homework and always have your eyes open. The second a site lies to you, leave right away.
If you're looking for a hookup site that works, then do so by checking out this site right here before all others.
Others that you must avoid are as follows: