If you're visiting my site, then we've likely got one thing in common. Your love for hooking up with horny strangers is strong and chances are you're on the prowl for some serious action. In the event that I've just described you, then you'll be happy to learn that this is by far the most important thing that you read all day long. Reason being? I'm going to save you a bunch of money by telling you to avoid a scammy dating site called Instafuck.com. I spent my good hard money on this site testing it out (as well as this site) after giving it the benefit of the doubt.
Guess what? It was the absolute worst I've ever used. Do not worry, I'm here to reveal everything there is to know about this site and why it absolutely sucks.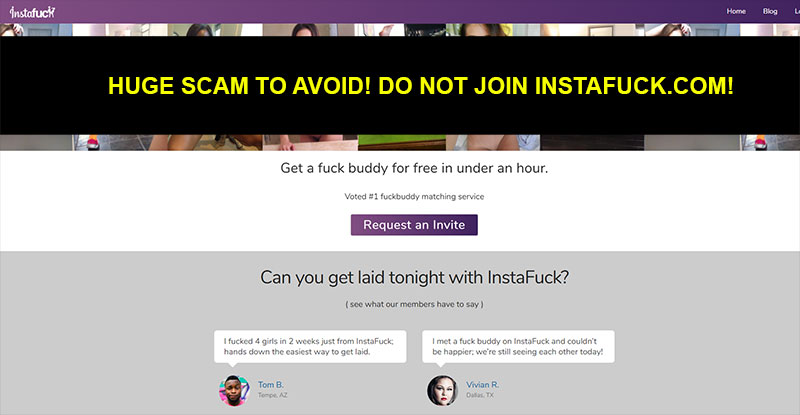 Instafuck Sucks…Here's Why:
Typically I do not call out sites for pulling the wool over people's eyes but this one I just had to do so. Now, if you're anything like me, then you enjoy getting laid. In fact, you scour the Internet and local hot spots looking for fresh booty to smash.
I did just that and somehow ended up on Instafuck.com. Now, the problem with that is that the site doesn't work. Everything about it is completely fake. Let me break things down for you here.
Marketing Redirect
This isn't a real dating site. Instead, it's nothing more than a marketing website built out to look like a real dating site. When you click on any of the Login buttons or Join CTAs you'll notice that it redirects you to a completely different website. This happens because Instafuck isn't really a site with members. Instead, they use it to attract users.
Scroll Of Fakes
Another thing you'll notice is that the site showcases users on the index page in some scroll. These are not real girls and they do not belong to the website at all! Assuming you're not completely stupid, then my guess is that you understand that these photos are not of real members using the site. Instead, they have possibly ripped photos that have been stolen or purchased.
Terrible Fake Profiles
The site that you do end up joining if you somehow manage to join Instafuck (or the site they're promoting) has fake users. These users are not real and the profiles are created by the company to get you to interact with users.
There I said it and it feels good, to be honest! You cannot get laid if a real person isn't behind a profile. It's literally as simple as that! Assuming you're okay with chatting it up with robots, then, by all means, have at it. I'm all set though!
Testimonials? Pffffttt!
If you take a closer look at the testimonials published on the site, you'll notice that they do not share much. Additionally, the site only shows two people sharing their experience.
I'm sorry, but I know for a fact that these are not real profiles. If anything, they're as fake as they get and easily "outted" through the use of reverse image search. NOthing but stock photos applied to some lies, simple as that really.
Too Expensive
The site that you join here cost way to much money. Be ready to dish out some real cash here if you want to join. I'm talking about hundreds of dollars each month. They totally rip you off here!
Conclusion: Instafuck Sucks, Moving Right Along!
That's all there is to it! The site is complete crap and nothing but a marketing ploy to get users to commit to joining the site. They want your money and you'll never get laid. Sounds like fun huh? Pass and join this site here or simply lose out on the money. The choice is yours, my friend.