While I'm not a huge fan of Tinder, I know some of you people probably use it. This is why I'm covering this topic today. I can't leave you all hanging here, so I'm going to fire off some swiping right standards that I suggest you abide by.
Tinder is one of the many among online dating apps today. It's simple and straightforward and a lot of people are using it. One of the main reasons it's so popular is because you can connect with local singles for free. All you have to do is download the app, adjust the distance you want to search, and start browsing. You swipe right if you like the way the person looks and/or their bio and you swipe left if you don't. If you are a girl, you probably appreciate the fact that the guys cannot contact you unless you swipe right.
That means that your success on Tinder depends on making the right decision on exactly when to swipe right. Here are some standards that will help you choose and save you a lot of time trying to figure out which way to swipe.
Assuming that you're using any dating app, then you better have a solid dating profile. If not, then read this for some help!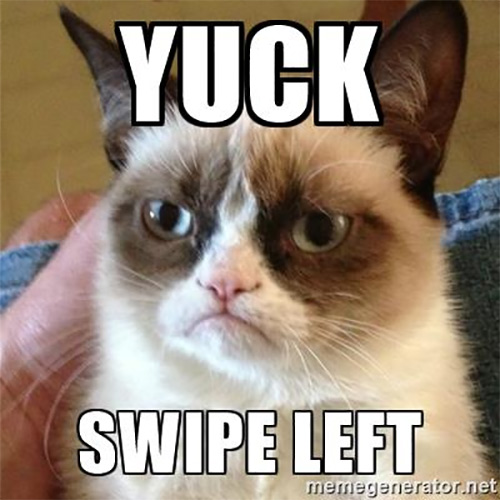 My Personal Standards For Swiping on Tinder
Here's run down of standards that I abide by and that you should as well. These are tips for both men and women.
When To Swipe LEFT
Girl Tip: One of the guy's pictures is a shirtless selfie – The shirtless selfie became a turn-off a long time ago. If he doesn't know that, he goes in the "no" pile.
There are multiple people in all the girl's or guy's pictures – If you have to take the time to investigate which one is the person your trying to bang, it's not worth the time to check it out.
The guy/girl has pictures of him with the opposite sex – If a guy/girl is desperate enough to post pictures of him/her with a bunch of people, then you need to pass.
Too many pictures and mentions of partying – One or two fun party pictures are fine, but if that's what they're all about and it could be complete bullshit. Really party people don't brag about it, they just do it.
Their bio explains that they are looking to settle down – Tinder is not the settle down type of app to use. People use this app to hook up. They are probably desperate. Run like the wind before you get trapped.
Girl Tip: His bio explains how successful he is or his academic accomplishments – This might seem like a good thing, but if he's so successful, why is he looking for women on Tinder?
They send you a one or two-word message – People who send messages with only one or two words don't really want to talk. They're just casting their net to cover as many bases as possible.
When To Swipe RIGHT
If they're hot – If you can't deny the immediate attraction to any given profile picture, swipe right. That is, unless a shirtless selfie is involved. Be strong ladies. Cheesiness cancels everything out.
If they're humble – If they're hot and don't brag about themselves, probably a good candidate to swipe right and smash.
If funny – If hot, humble, and funny, then you have struck Tinder gold. A good sense of humor is also an extra incentive to be a little less selective when it comes to looks.
These are my basic standards for swiping on Tinder. Keep in mind that the same rules basically apply for all casual sex apps, so apply them as necessary!