Some sites are legit the pits. They are no fun to use, they scam users, and they simply create problems for you and anyone that uses them. That's the exact vibe that I got when using HotChatDate.com. Today I'm here to share everything I know about this dating website or lack of for those that dig deep enough.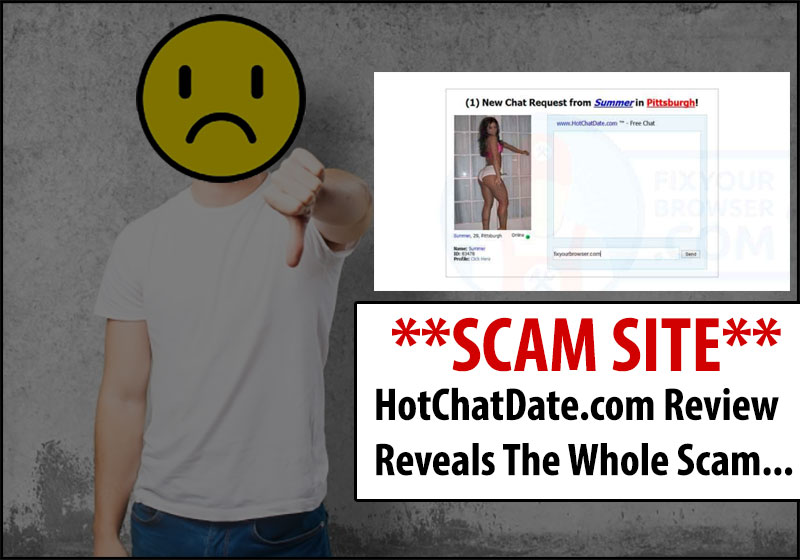 My Review of HotChatDate (Warning)
I've done my best to cover everything necessary here. If you're the type of person that likes to research before you spend, then you will be glad to know that you'll save money reading this. Take the time to read it, please. I'll come right out and tell you that this is NOTHING like the tradition Snapsext.com app that you're accustomed to using.
Sorry, It's Fake
HotChatDate is a fake site that tries to convince you that you're actually talking to a real person through their cam feed. It doesn't take much to figure out what's going on. In fact, all you have to do is watch the video feed. If you give it enough time, you're going to see it loop.
That's because it's just a prerecorded clip that has nothing at all to do with you. The person on the other end has never been on a chat site. Her clip was simply purchased for a fee and set up on the site to trick you.
Location Detection Scam
The other thing they do is check out your GPS. When you head to the site, it does a search for your location. It uses this information to tell you that the fake person you're talking to is in the same area as you.
It's just one more detail to make you believe there's a reason to sign up for the site. No matter where you are, this same girl is going to supposedly be right down the street. It's convincing enough to keep the website in business and it scams brand new people all of the time.
Funnel To Anastasia Date
The main reason this site exists is to funnel you into Anastasia Date. It's yet another scam site that uses more traditional ways of tricking you out of your money. If you sign up for this one, you'll get all of the usual things thrown at you. You'll get message after message sent to your inbox that you won't be able to respond to. If you want to do that, then you'll have to upgrade your profile to a paid account that will charge you every single month until you catch on and cancel it yourself.
Fake Profile Scam
The reason you won't want to stick around is that the vast majority of profiles on the site are totally fake. They're created by the site to make it seem like people actually use it. They don't. They're run by the site which sends out those bot messages that fill up your inbox.
After you get enough of them, it just makes sense to upgrade so you can respond to them. If you go through with it and try to respond, you're still not going to get any replies. They've already gotten their money and that's all that they were after in the first place.
Conclusion: HotChatDate Is A Scam
If you stumble across HotChatDate, then just leave it right away. There's no reason to spend your time there. It's only going to be a waste. There are legit sites out there that can and will lead you to meeting new people. However, this is not one of them. This one is only after your money.
Don't make a profile and don't upgrade your account. You're going to be very let down if you do. You'll also have to go through the hassle of canceling your premium access to save your money. You're much better off simply ignoring it. Want some really good advice? Use the official snap dating site and you'll eventually get laid. All without the hassle of this fake chat bot nonsense.
Other sites to avoid:
There are dozens of other sites that you'll want to avoid. I've shared a few of them with you below…