I'm not here today to complain or bitch or moan about anything at all. In fact, I'm just here to share facts about a dating site that I tried. It's called WantMatures and when you read this, you'll understand why I have somewhat of an attitude about things. It just pissed me off that so many sites get away with this type of activity. Keep reading to learn exactly what I'm referring to.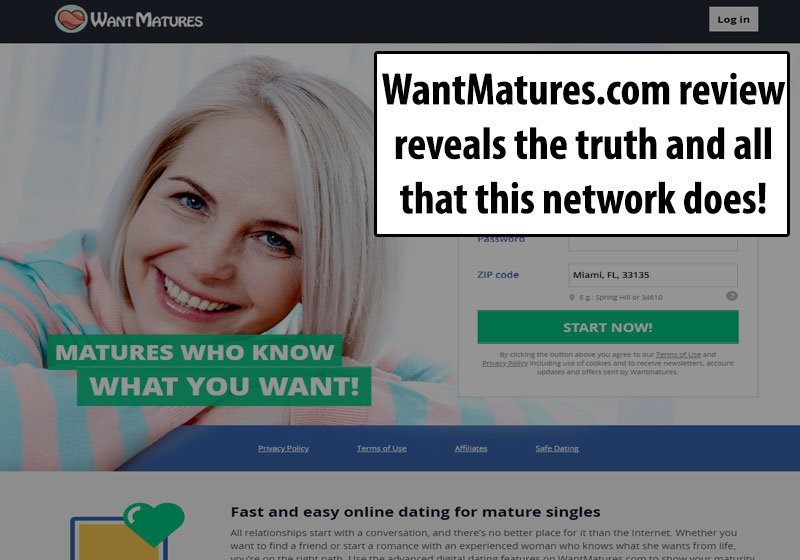 The Scoop On WantMatures – Read Before Joining
WantMatures.com is a dating and social networking site where you are supposed to be able to meet a mature cougar or MILF in your area, for a date or hookup. I was suspicious about this site from the beginning because I noticed that it was a site owned by Northlock Holdings. This is a large network of dating and hookup sites. I had already tried a couple sites on the network and they turned out to be frauds. Check out my full review below and find out if this one is just more of the same.
The Features
I admit. The layout is nice, and the navigation isn't even that bad. I didn't see any glaring warning signs yet, but that does not mean they aren't there. It has decent features that mimic a social media site where you have a friends list and see which ones are online.
There are also chat rooms.
You can send winks to other users and keep up with who winks at you. The Match Feed feature is their best because all your most compatible matches are all in one place and you can message them all at once. Despite these cool features, I started seeing major warning signs of a fraud.
Their Terms and Conditions document is full of red flags
The first thing I noticed was a heading in big letters that mentioned their rights to use your content for their own purposes. When I read the details, it was just as I had suspected. When you sign up for the site and use it, they reserve the right to use your photos and all the information in your profile anywhere they want to.
This means that they use your profile to create duplicate profiles on their partner sites. This tells me that most of the profiles are fake profiles that they stole from people on their other sites.
It's free to sign up, but access to features is limited. You cannot interact with anyone unless you pay for a full membership. What's worse is that full membership doesn't even pay for SMS chat. You must purchase one of the SMS Packages to use the chat and buy more when your tokens run out.
A glaringly obvious sign of fraud came when I entered the site with no profile info and no picture. I still got an inbox full of messages. These messages are automated, from their fake profiles. Many are operated by 3rd party sites, so there's no telling what kind of fraud you are going to get wrapped up in.
Hot women are not going to send you messages, begging to talk to you, if they have not even seen your picture or any information about you. When you visit a new dating site, you should always leave your profile blank for a few minutes. If messages still pour in, it's a fraud (the same thing happens on this site here).
How much does it cost?
Here is their membership pricing. Keep in mind that these prices are subject to changes that they can apply at any time and they also reserve the right to change the terms of the membership at any time. A 3-day trial is $4.98. The monthly membership price is $34.99. You get a discount when you purchase 3 months for $59.97 or 6 months for $95.94.
Conclusion: Crappy Site, Not Worth It, Avoid WantMatures.com
The bottom line is quite simple. The WantMatures.com site, and any other site that's part of the Northlock Holdings network should be avoided. You can find all the reasons you need to avoid them by simply reading their terms and conditions. Don't be fooled. They want your cash and don't care if you meet and hook up with anyone at all. Just stick with the tried and true network I use – click here.