There's a site out there called Flirty9.com which I've just recently decided to give a try. Reason being, they claim that you don't need a credit card to join. You know, one of those "free" and "no credit card dating" sites. Well, if that's truly the case, then I was going to find the time to either confirm that or uncover the truth. Here's what I learned about the Flirty9 network…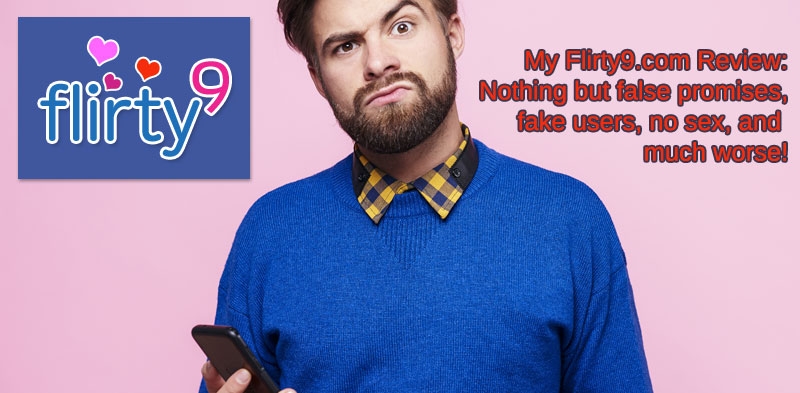 My Flirty9 Website Review
I have left everything on the table here and covered all that you could possibly want to know. Here's the skinny of it all. Brace yourself, you may not be happy with what you're about to read. That holds especially true if you like free dating sites.
Lots Of People, But At What Cost?
Flirty9 is chock full of people, but they're not the kind of folks that you want to be involved with. The site has an open door policy that lets anyone and everyone in. They also allow you to send your phone number or email address through their mail system, which is something that a lot of sites censor. One look at this place and it's easy to see why they do it. It allows spammers and scammers to populate every single inch of the site and target anyone with a profile. In just a few minutes of being on, you're likely to get dozens of messages from people trying to take advantage of you.
Free Or What?
It labels itself as completely free, but that's not necessarily the case. While you can send messages and use most of the site, a lot of it revolves around "loves". This is essentially the same thing as getting a "like" on Facebook. The big difference is that Facebook doesn't charge you to see who did it. If you really need to know who left the upvote, you have to spend real money on tokens to buy your access. It's a minor thing, but for a site that claims to be free, it can get pretty expensive.
Users Numbers Totally Off
The real problem lies with the user base. It's been overrun with people who just want to scam you. Practically every message you receive will be trying to lure you to a different site or to a personal email account. If you fall for the trap, you're likely going to be the recipient of a sob story before you get asked for money. There's never any reason that you should have to email someone directly unless they have something up their sleeve.
All Women = All Fake
From the very first second that you start with your free profile, you're going to notice that something's up. Even without a filter for gender preference, the majority of profiles that you see are going to be for gorgeous women. This is always a red flag. It's a dead giveaway that most of the profiles are fake; you should turn yourself right around as soon as you see it. No good can ever come of something that seems too perfect. It's simply a hint as to how many scammers there really are on this site.
Conclusion: Flirty9.com Has Zero To Offer You
Flirty9 is definitely one to stay away from. It's going to be very easy to get yourself into trouble that you may end up spending years paying for. With all of the danger that lurks on the internet, this site works as a haven for it. The best thing that you can do is simply stay as far away from it as you possibly can. It will never get you where you want to be. There are plenty of other sites out there that will actually work for you, but this is certainly not one of them.
If you want to snap and hookup, then you can do it right here but you're going to have to pay. Sometimes a premium dating site is far better than a free one, trust me on that!