I'm a firm believer of treating a girl right on a date. You show her a good experience while out on the town and chances are far better that she'll show you a good time in bed. Dating is exciting, but the fun doesn't have to end if you go on multiple dates with someone.
Far too many serious as well as casual relationships get stale after a short period of time. Most of the time, it's because you forget what it's like to have fun together. When you first start dating someone, the sparks are flying everywhere and sexual tension is at its peak level. It's not impossible to bring that peak level interest level back. In fact, there are many simple and inexpensive things you can do together that will bring a spark back to your sex life.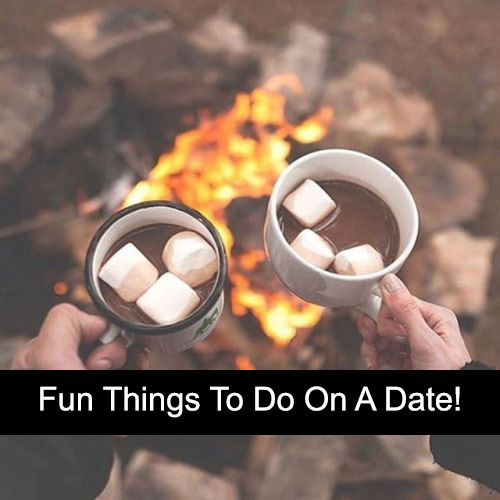 A Ton Of Fun Things To Do On Your Date
Here's a rundown of things that I personally do when I'm looking to rekindle or reignite that flame and sexual burning desire with someone. There's always something that can be done to help improve your dating situation. Those that say otherwise are either lazy, pessimists, or they just don't get it.
Take turns planning dates – A nice change of pace. Surprise each other with your choices.
Go for a hike – Look for a local hiking trail and get some exercise while spending quality time together in a lush setting. Have you ever had sex outdoors on top of a mountain? Now that's what I call living!
Go exploring with cameras – Each of you take your own camera and explore your town, taking pictures of everything and each other. Don't be afraid to take some naughty photos of one another as well. That always spices things up a bit.
3 course, 3 location meal – This one requires a lot of effort but it definitely works and can so that you truly care about the person due to the amount of effort being put forth. You can eat an appetizer at one restaurant, entrée at the next, and dessert at another.
Outdoor movie – I may have mentioned this at one point already but it's a great approach to a successful date. Find one of the few outdoor movie theaters and take your date for a nice movie. You might get some action here if you play your cards right.
Go camping – Depending on where you live, this might be a good idea. Camping is fun whether you go as a couple or with friends. Talk and laugh around the fire in a cozy setting. It's a bit of a stretch but it may prove to get you laid.
Play video games – This doesn't mean invite her over to watch you play PlayStation. Take her to an arcade and play games together. Find a local Dave and Busters or some Game Works location. Have some drinks,  play some games, and show her a good time.
Go to a comedy club – Laughter is always good for any relationship. Comedy clubs are a great date night spot and they are relatively inexpensive.
Go stargazing – Find a nice, wide open location to lie down on a blanket and gaze at the stars.
Have a picnic – Have a traditional picnic in the nicest park you can find. This shows real effort and she'll notice it if you put the time and work in right!
Karaoke night – Everyone loves drinking and singing. If you can sing, it's fun. If you can't, it's a blast humiliating yourselves together and singing your favorite songs while buzzed. If you want to get a girl to have sex with you, then I suggest taking this approach.
Go to a museum – Ever had sex in a museum? Talk about thrilling! This is always a nice, quiet, and romantic date in a mentally and visually stimulating setting. Sometimes it's physically stimulating if you play your cards right.
Rent bikes – Find local bike rentals and ride together along the ocean or on bike trails.
Explore the city – Go to places in your town that you may not have visited before.
Go book shopping – There aren't many left, so if you're lucky enough to have a bookstore in your town, have a look around.
Drive around a nice neighborhood – Find the nicest spot near you, explore it, and talk about all the coolest houses.
Give each other a massage – This is both physically and mentally stimulating. Exchange nude massages and give each other a moment of Zen. Once you've finished that, you can bang each other, which you'll both want to do for sure!
Binge watch a TV show – Choose a series that both of you are interested in, but never watched, and watch a full season together. This is your Netflix and chill opportunity so take full advantage.
Game night at a bar – Go to a bar with a game night or a fun theme and have some drinks.
Go see two films – Go to a matinee, hang out and explore all day, then watch another film at night. I've had a girl give me head during this date on multiple occasions. It's worth the risk, trust me on that!
All of these fun things are great date ideas that are sure to bring some life to any relationship. Don't take my word for it though. It's important that you take some action and try them out.