I'm all about free pretty much when it comes to anything at all. No lie, I love free stuff and if you tell me it's free to meet and cheat, then I'm pumped! However, the Free2Cheat dating site is anything but free. Why do I say that? Well, let's put it this way…my card almost got dinged for $100+ after joining. Needless to say, I was pretty pissed off. Here's the whole rundown of what happened.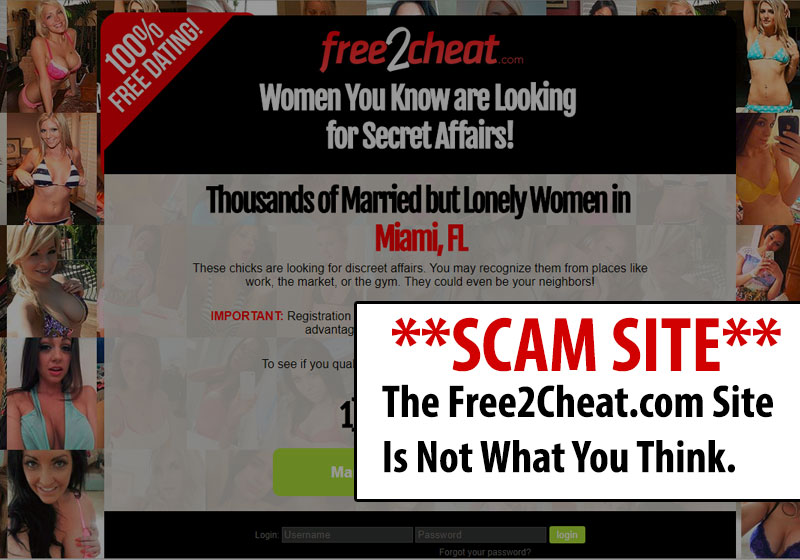 My Complete Review Of Disgust With Free2Cheat
Here's a no holds barred rundown of everything that I learned while testing the waters here. Trust me, you'll be pissed too once you read this…
Free2Cheat claims to be a totally free dating site, but it's going to run you much more money than you ever thought you'd be spending. Not only do they start lying from the very beginning, but after they scam you the first time, they're going to keep on trying to scam you the entire time. No matter how careful you try to be, you're going to get hit with unexpected charges at some point, and you're not going to like it. Naturally, your bank account is going to like it even less, but the site owners will love it.
They Want You Credit Card Numbers
Even though they tell you that the site is free to use, they still need you to enter your credit card information. Any time you see that you should be extremely wary. There's no good reason to require this if they're not planning on taking your money from you.
There's no point in asking for the information if they're not going to use it when you least expect it. This is the first time that you should turn around and find a new place to spend your time and try to find someone to hang out with.
A Bunch Of Bad Adult Sites
If you enter the information, you're going to be tricked into signing up for way too many porn sites. It's going to be preselected and hidden from you, so you actually have to know about it in advance and opt out. If you're not used to looking for it, then you're going to get hit and there's nothing you can do about it.
Each different subscription is also going to be set for recurring billing. That means that you're going to get charged again every single month. All of that is going to add up very quickly and you're going to be out a lot of money.
Let's Not Forget, Fake Profiles
Even after you've been scammed out the money for these additional sites, they're still going to try to get more money out of you. They're going to send you fake messages from fake profiles that you won't be able to read or respond to unless you upgrade your profile to a paid one. There's no reason at all to do this. None of the messages are coming from real people. In fact, very few real people ever use this site. It's basically just one giant scam site that gets you over and over again.
Conclusion: Free2Cheat Is A Ripoff
Unless you want to be tricked out of a lot of money, you shouldn't have anything to do with this place. Don't check it out and certainly don't give them your money. They don't do anything at all to earn it and they definitely don't have anything to offer you. There are more than enough other legitimate sites that you can use to actually get some results. This place has none. There are way too many other places that you can actually head to and hook up with someone right away. Those are the places that deserve both your time and your effort.
Other sites that cheat you…
There are more too avoid, just take a look around my blog and read the reviews before taking action.