I'm all about flirting these days. In fact, it's one of my specialties when it comes to meeting women online. It would only make sense that I am naturally attracted to websites branded with the word "flirt" in them. I recently came across one site that I had to give a try. It was called Flirt Buddies.
Yes. I did so just for the fact that it was related to flirting. Was it a promising site? Not even close! If you want the full rundown of the site, then I encourage you to read this review to learn all about it.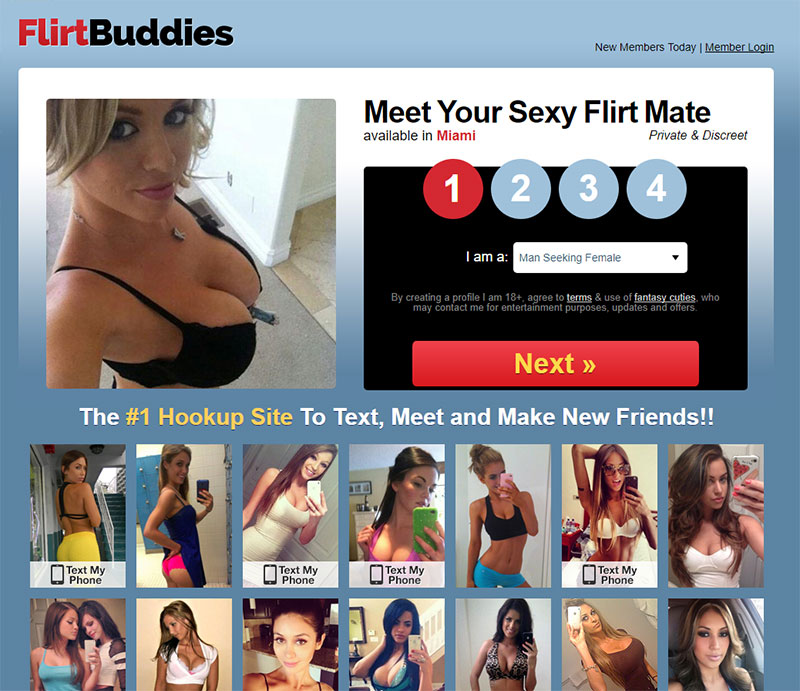 My FlirtBuddies.com Website Review
I'm not going to sugarcoat things. There's a good chance that you're not going to like what you hear today. I'm just warning you now that things could get a bit ugly, so just know that you've been warned here. I'll kick things off with a basic overview of the site and what I learned here.
Overview
Flirt Buddies is a giant scam that starts "working you" from the second that you make your profile and never lets up.
Whenever you find yourself on a site that claims to have women who are as gorgeous as the ones on these profiles, then rest assured that you're dealing with a dating scam.
There isn't a single real looking girl anywhere. Unless you can believe that the site is only used by models, it should be a dead giveaway that they're all paid to be here.
The reasoning behind something like this is very simple. If you can believe that you're in a place where you can talk to beautiful women all day long, you'll be more than happy to shell out your money for the privilege.
It's a tactic that's used wide and far within the scamming world and it usually gets really good results. The sad part is it leaves the consumer with "dick in hand" and no one to meet. Don't even get me started on the fake or fantasy profiles.
Fake AF Messaging
This place even goes so far as to send you fake messages from these women. You can read what they send, but you won't be able to respond unless you upgrade your profile and get yourself a brand new monthly bill.
If taking on the responsibility actually led to something, then it would be one thing, but this certainly will not. You won't get anything at all for your money and these messages that you've been getting will all disappear immediately.
You'll feel like a fool for falling for it, and nothing is really worth that kind of aggravation. The reason the messages disappear is simple. The Flirt Buddies company and staff don't care about anything other than your money.
No Bio? No Problem, LOL
The real reason that you should be able to tell that this site is a scam is the length of time that passes between making your profile and getting your messages. No matter how little information you put on your page, you're still going to be getting women trying to talk to you.
No woman in the world is going to try to flirt with someone who not only doesn't have a picture of his profile but also has no information about himself. There's nothing at all to attract them to you and it only works to kick off the scam.
Costs Money
This isn't a cheap site. It's one of the most expensive that you can find and they have no shame in charging you the exorbitant fee for absolutely nothing in return.
I've upgraded to premium status and have seen nothing in return for doing so. To top things off, you're going to be charged over and over again until you figure out how to cancel your membership.
This flirtbuddies.com site can easily run you a ton of money if you're unable to cancel before they start charging. If you're already a member of this site, then you should leave, immediately. There's no reason to give them any of your money.
You'll have nothing to show for it but an empty bank account. If you're not a member, then you don't want anything to do with this place. It's nothing more than a scam and will cost you a ton of money until you figure it all out. That's all I've got to share about this disgrace of a dating site. It sucks and it's not worth it at all.
Recent Review:
If you're looking for other recent reviews that I've written on sites, then check out this fuckbook review that I posted.