Swiping is not a new thing when it comes to dating. It's been like this for a while now, but it's just really picking up steam when it comes to hookups and casual bangs. I did something that I've never done before today – I tried Swipe Hotties. Given the crazy number of swipe dating apps and sites, it's imperative that you read this IN FULL to get the full rundown of things. Here is the review and my take…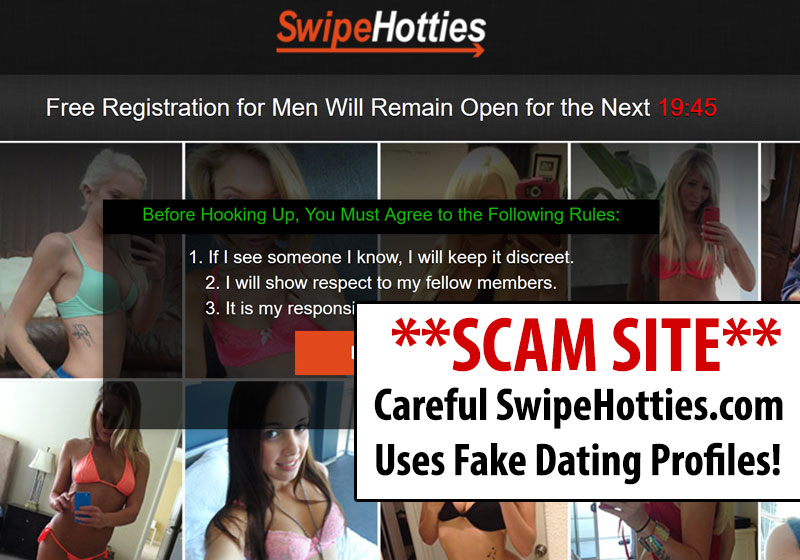 Swipe Hotties Review (Personal Opinion)
It's amazing how many dating site scams are still up and running, even after they get a reputation for being fraudulent. This continues because there are always consumers who are vulnerable to being taken advantage of for the sake of a connection and because these sites protect themselves in their terms and conditions so that they are not liable for defrauding you.
Swipe Hotties is tied to a notorious scam site named SwipeSluts. They have been in business for years by stealing money from unsuspecting consumers. They feature a variety of the worst tricks in the book, and it continues because they do everything they can to get your credit card information as soon as possible. They only need to receive it once to hit you with a bunch of charges. Swipe Hotties tries to get you right out of the gate.
Claims to Be Free But Hits You With Fake Charges
Their first play is always to appear as legitimate as possible, and this is by copying the font, layout, and design of other popular dating sites. They offer features you would expect like search features and private messaging. For veterans of the dating world, the option of live cams should raise your first red flag. These type of options are never on real dating sites, where they do not want to appear like a porn site or a sex solicitation site.
This site, however, is more than happy to make you think that there are hot girls on cam all day. The reality is you are looking at a prerecorded loop. Once they get your interest that way, their second play is to claim that the site is completely free to use. However, once you sign up your credit card is requested and they mention in the fine print that they will sign you up to the VIP package.
They fail to mention that this package signs you up for two porn sites for about sixty bucks a month, every month. This is on top of the baseline forty dollars a month fee that you are automatically upgraded to even if you just do the three-day trial. Once you see this type of behavior, it's obvious the scam runs throughout the site.
Conclusion: Fake Content Proves It's A Scam
What should have you concerned right off the bat is the number of emails you immediately receive once joining the site. It just doesn't make any sense that all of these hot women would want to talk to you minutes after you joined. You won't even have time to put up a picture of fill out a profile before someone is writing to say how great you look or how you're a match.
You have to understand that all of this is a scam. None of the girls that are messaging you are real. Not only are the profiles and pictures fake, but the messages you are receiving are generated by computer software. All of this is designed to get you to sign up for a membership package in order to talk to them. Only a shady business would employ such tactics.
The only real people on the site are the paid contractors who are employed to maintain fake relationships with you. You are not messaging the woman in the profile photo, it's just an employee that wants to keep you on the site for as long as possible.
The site admits to this in the terms and conditions and they call these profiles Love Stars – same as the ones here. All of the Love Star profiles are fake and you will notice that these are the only profiles that messaging you. This site is a complete and total fraud and you should stay far away from it.