I love me some snaps and even more so, I love hooking up with local hotties. That said when it comes to chatting and banging, I spare no expense as I'm willing to try just about anything at all. This is exactly why I decided to give the Freesnaphookup.com website a shot and I must say a shot in the dark it was.
Completely dark, perhaps what many would say pitch black and I use the term metaphorically because there's no way that someone uneducated not within the industry was going to understand what's going on here.
In other words, the FreeSnapHookup.com site is not good and it's going to cause you a lot of trouble. I've covered my personal thoughts on it and why I suggest avoiding it like the plague. Well, if you want your credit card banged six ways to Sunday, then go for it!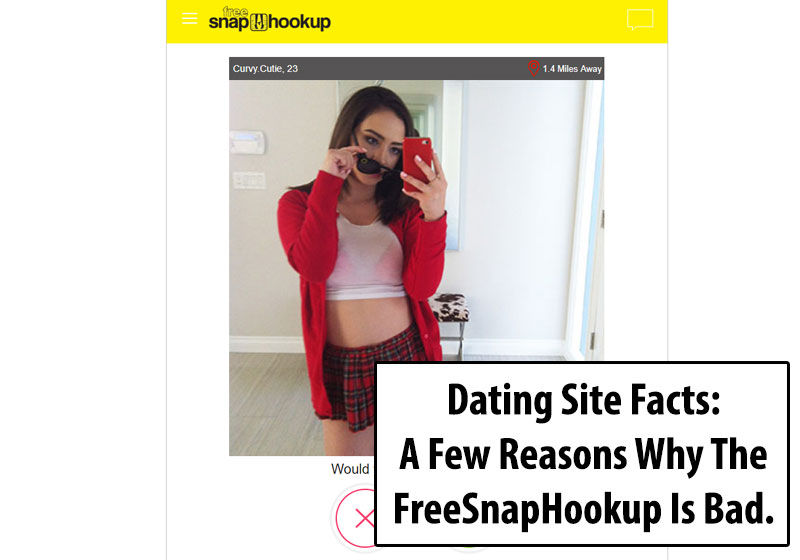 My Investigation Of FreeSnapHookup.com
While many people are aware of the constant scams that run rampant on the internet, people still don't realize just how sophisticated and elaborate these scams can be. These scams pull in hundreds of thousands of dollars from unsuspecting consumers, and that's because they are dedicated to giving off the appearance of a legit site. Freesnaphookups.com is one such site, where they have gone to great lengths to resemble a legit site.
They copy all the typical features and design layouts you would associate with a legit site. They are so good at this because they are linked to a vast network of scam sites, all run by Nautell Capital Limited, one of the most successful entitles out there in producing fake dating sites.
Everything Shady Is In The Terms
These types of websites keep getting away with this fraudulent behavior because they lay it right out in the terms in conditions. People rarely read the terms and conditions, and scam sites exploit this loophole so that they can take advantage of you without consequence.
Freesnaphookups does this through an option called the Love Stars. These profiles go by many different names across the scam dating site world, but they all function the same. It's the company run profiles that populate most, if not all of the site.
These hookup profiles are either run by third-party employees or are not even real people, but computer bots that are designed to harass and message you constantly. They just want you to upgrade your package and stay on the site as long as possible.
No Real Women At All
At this point, you shouldn't be surprised at all to discover that there are no real women on this site. All the photos you see have been stolen from other places all across the internet. A simple reverse image search will show that they have been taken from porn sites and cam sites.
You will receive a variety of messages, both in your direct messages and your email inbox. Trust and believe that all of these messages are coming from computer software instead of real people.
The messages are generic and often repeat themselves and don't seem coherent. However, they all want you to upgrade your account to talk to them. And that's how you know there's a scam going on.
Promotional Profiles For Fun, Not Hookups
The site admits upfront that they have profiles showing that are not actually real and are just there for promotion. They just don't admit that literally, every profile on the site is such a profile. However, by having you sign the terms and conditions, it insulates them from having to be responsible for defrauding you.
Sites such as Freesnaphookups are notorious for recurring charges that are near impossible to cancel and being populated by nothing but fake profiles that will hit you up even before you put up a picture on the site. They do things like associate their name with known social media platforms so that they seem more legitimate than they really are. This site is a scam through and through and is dangerous for you to be on.
Conclusion: FreeSnapHookups.com Is Not Worth Your Time
If you're planning on using the Freesnaphookup site still then you're an absolute psychopath. There's nothing worth your time here and if you're going to throw your money down the drain, at least do it usefully like spending it on lottery tickets or the Powerball. You have a better chance of winning that then getting laid on this website. On the other hand, you're chances of hooking up using the one and only Snapsext.com is pretty stellar. My suggestion would be to give this one a shot before jumping into the Freesnaphookup.com nonsense – just saying!