I'm all about taking snaps and texts and sending them to girls on the regular. However, not all apps and sites are equal. For example, the Swipe Chicks site sounds amazing but it's poop. Here's what I think about this site and whether you're likely to get scammed or screwed (in a good way).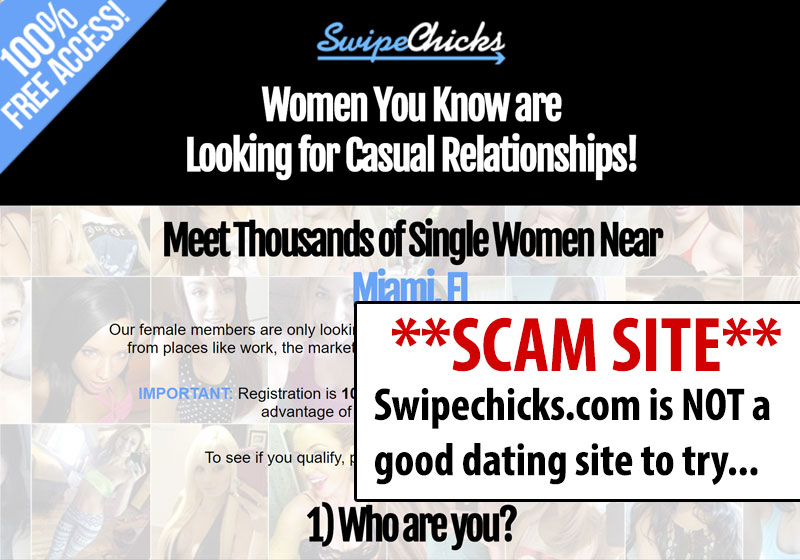 Overview and Review of Swipe Chicks
We all want to go around banging hot chicks in the backs of our sweet cars. It's in our nature. Every once in awhile, we come across a site that says it will help us achieve our goal. You'd have to be crazy not to take them up on the offer. Banging chicks is hard, after all. The problem is that not all of those sites exactly have our best interests in mind.
Sites like Swipe Chicks only wants to take all of its members for as much money as they possibly can. Not only do they not want to help you hook up, but they also wouldn't be able to do so, even if they tried. That's because there are no real women on the site. It's filled with nothing more than bots and fake profiles (like this list of bad sites). That's the way it is now and that's the way that it will always be.
They Use Love Stars To Talk To You
When you first sign up, everything is going to seem great. You'll start getting messages from women right away. You don't even have to upload a picture of yourself. It may seem likes it's the easiest way to find chicks that you've ever come across in your life. Unfortunately, it's all a lie. You'll be just as "chick-less" at the end of it all as you are at the start.
What they're doing it sending paid employees and robots to talk to you. You'll notice that you can't actually respond to any of the messages that you're getting. That's how the scam works. You'll get tons of messages and feel like you'd be an idiot not to pay to respond. None of them are real, though. But that's how they want you to feel. It's how their entire business works.
The Proof Is In The Video
All you really have to do to see the scam in action is wait. The site also offers what seems like a robust video chat system. Naturally, it's being sold as a pregame to all of your impending hookups. You see all the hot chicks in person and maybe get a little naughty with them before the main event.
Cam feeds will pop up all over the place. Just watch them. It's all prerecorded video. It's going to repeat if you let it play long enough. It's the biggest example you can find for the way the site lies to you.
Conclusion: Swipe Chicks Will Never Get You Laid
There's no reason to spend any of your chick hunting time on Swipe Chicks. It's all just one big lie. There aren't any real women to hook up with. It's all just bots and spam. You'd have better luck just cruising around in your Camaro and honking at every fine ass you see.
You'll just end up wasting all of your money here. Stay far away from it and you'll be much happier in the long run, not to mention much richer. Look, if you're looking for something that works, start with this site here…