Are you the type that likes to use social networks? If so, then you and I definitely have something in common. However, I'll have you know that not all social networks are alike, especially those primarily used for dating. Which is exactly what I learned after registering for the Social Sex membership. It turns out I was a huge sucker, just like a lot of others out there. I ended up losing money, not getting laid and with a bunch of frustration. Don't worry, this will not happen to you since you're reading my Socialsex.com review. It explains everything you need to know in order to not get ripped off.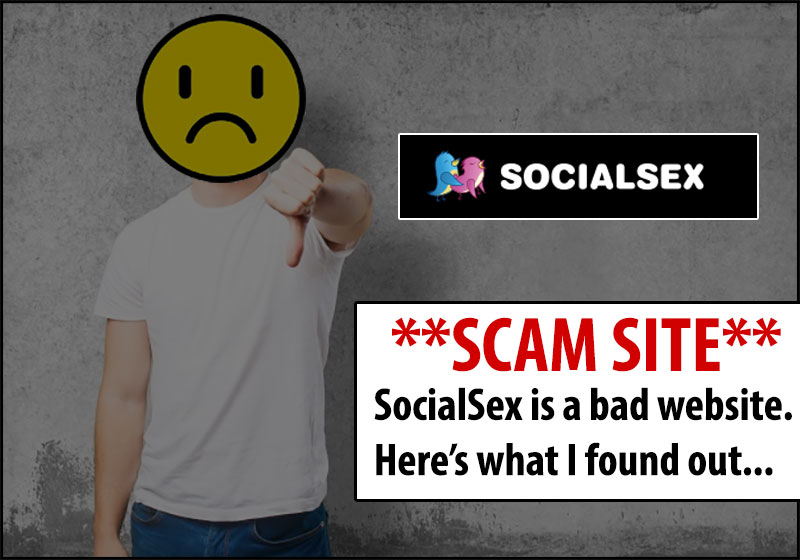 My Official Social Sex Review
No wasting time here, it's imperative that I just keep things straight and fill you in on the nonsense here. Once again, we come across a scam site in the form of Social Sex.
After you make a free profile and start seeing just how hot all of the women on the site are, you shouldn't be surprised. Naturally, you're going to be getting messages from all of them and they're all going to be local to you. It's going to be very enticing.
It may just convince you that it's a good idea to upgrade your profile so you can respond to some of these hotties. If you do that, all the messages are going to disappear and you'll be left with nothing to do.
Nothing But A Fantasy
What this site is doing, is nothing but selling you a fantasy. That's how they can stay in business. If they claimed to be a dating site, they would be shut down immediately. Instead of that, they make you agree to being sold a fantasy and it's all right in the terms of service. When you agree to this, you're giving them permission to send you messages from fake profiles that the site itself creates. It uses these to get you to think you need to upgrade so you can talk to them and set up a different meeting every single night.
It's Not New, Trust Me
This tactic is nothing new and new sites are popping up all the time that do the same exact thing. If it didn't work, then they wouldn't exist, but they do. There are clearly enough people in the world to fall for it to keep these guys in business. It's a sad fact, but it's true.
That's why you always need to do your research before you get yourself involved in a new site. You never know what you might be getting yourself into; you need to keep yourself and your money safe.
Messages Before Uploads
When you find yourself on a site where you're getting messages before you even upload a picture, you can count on it, 100% it's a scam. If you're getting messages that you need to pay to view before you've uploaded a picture, it's time to shut down your profile right away.
It's a scam site and there's no way around it. Some things are simply too good to be true and this site is one of them. There's no point in dealing with it for any reason. It's not going to lead to anything that you want and that's a fact.
Conclusion: Social Sex Is Socially Pointless
Social Sex is just a fake site. There's nothing for anyone here. They want to get you in so they can convince you to upgrade your profile. They'll stop at nothing to make that happen and you'll be inundated with fake messages. There's nothing going on that you'll like here. The same actually goes for this site here as well.
The profile pictures are fake and purchased from other sites on the Internet. The people in them likely have no idea at all that they're being used in this way. The site simply wants you to think that you're going to have a shot here, but you won't. No one actually uses it.
If you want to get laid and join a legit sex network that works, then try my favorite site – click to learn more.