If you're feeling lonely, then it's best to start dating right? That's right, but it's not always the best approach if you're using a site that scams users. One site that I just didn't trust was LonelyAffair.com. Boy oh boy, am I glad that I didn't initially jump right into this site. The reason being, it's definitely not worth doing so. I learned a lot about this and you will too after reading my Lonely Affair review.
Feel however you want to feel about it, but the simple fact of the matter is that people have affairs. It happens all of the time. At some point in their marriages, men just feel the need to step out on their wives. If you want specifics, it usually happens sometime around the three to seven-year mark. Most of the time it happens with a boss or co-worker.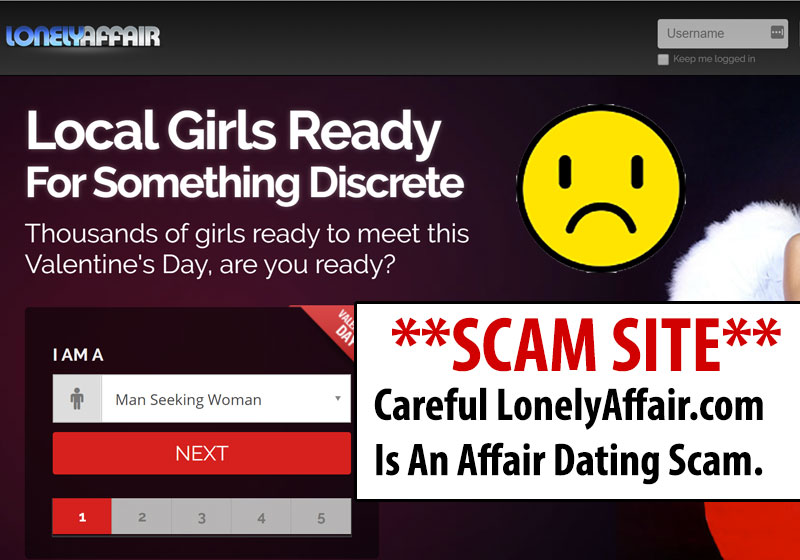 That's when they start looking at other women and wondering about what could have been. Most of these men want to try out someone younger and fuller of life and energy. They head online and seek them out whenever they feel they can get away with it. That's usually when they end up getting scammed. There's no shortage of affair sites out there that are only created to take advantage of these men when they want to wander. That's exactly what Lonely Affair is out to do and they do it to a lot of people.
Lonely Affair Dating Review Reveals All
Here's what they really do to users of their platform…
They Use Online Cupids To Scam You
The way they do it is extremely simple. They create a site where you have to pay in order to talk to people. That's nothing new at all. It makes sense for real dating sites. They have to cover their overhead and they're providing a service. If you want to use it, you'll have to help cover the costs associated with it. This isn't a real site, though.
They make you pay to talk, then they pretend to talk to you. LonelyAffair creates its own profiles called "Online Cupids." They then use these profiles to send you messages. The women that you're seeing on them have never been on the site before.
Their images were purchases from a stock photo site. You get the messages, think the woman is attractive and decide to respond. That's when you give them your money and that's when you get scammed.
They Make You Agree To Get Scammed
It's all laid out right in their terms of service. If more people read them, there would be a whole lot less scamming going on in the world. They tell you that they create profiles to maintain the site. That's a lie.
They're specifically making them contact you. They make you think you're getting real messages and you pay to respond. It happens over and over again and they cash the checks. It's just a ton of easy money for them.
Conclusion: Lonely Affair Is A Waste Of Time And Money
It all comes down to Lonely Affair being a total waste of everything. There are no real women on the site. It only exists to scam you and that's it. You'll never meet anyone here. You won't even have a real conversation. It's all designed to trick people out of their money and it works really well. The best thing you can do is avoid it and keep searching for a site that actually works. Find a real one that's filled with real people and have an affair with them instead. Which leads me to this list of affair site reviews that I've written as well…
Milfs Affair Review: No Milf Hookups Here