The MilfsAffair.com website is horrible. Find out why this site doesn't deliver and why I've completely written it off. You'll likely do the same once you read this full review that I've provided below.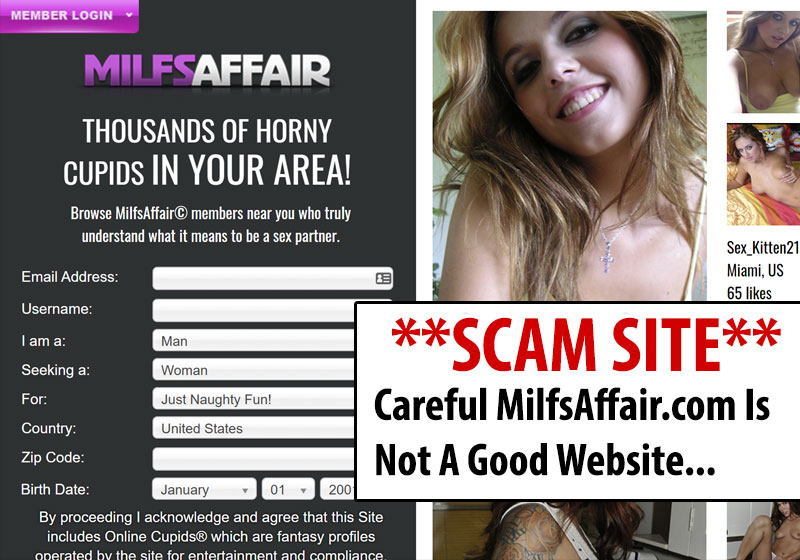 MILFs Affair Creates Fake Profiles To Scam You
There's nothing wrong with older women. In fact, an older woman could be the best thing to ever happen to you. They're experienced and they know exactly what they're doing. They usually have their lives together, so they can focus on just having fun with you. It's a great time for everyone involved and it's no surprised that so many sites revolve around getting in contact with them.
The problem is that there are also plenty of fake sites out there that claim to do the same thing. They'll say that they can help you to hook up with a MILF, but they have no intention of ever doing that. In fact, they couldn't if they wanted to. That's because there are no real MILFs on their sites at all. All of the profiles that you see are fake and created for the sole purpose of scamming you.
They Use Online Cupids To Send You Fake Messages
As soon as you sign up, you're going to start getting messages. You're going to be getting a lot of them. They send them to all of the new people. You won't be able to respond to them, though. If you want to do that, you'll have to upgrade your account.
To do that, you'll have to spend money. That's how the scam works. It's the site that's sending you the messages. All you have to do to see it is look at the profiles that are messaging you. They're all going to be Online Cupids.
That tells you right there that it was created by the site. They let you know all about them in the terms of service. The say they're profiles that they create to get you to talk to other people. It's just a way to scam you.
You Don't Need Anything On Your Profile
The real way you can know that it's a scam is just by creating a free profile without filling it out. If you don't put in any information about yourself, you'll still be getting messages from plenty of MILFs. That's because none of them are real. It's all just one big scam.
The site doesn't care about what you're looking for. They're still going to be sending you fake messages just the same. They'll send them to everyone just to get as much money as they possibly can.
Conclusion: MILFs Affair Is A Waste Of Time
There's no reason for you to spend any of your time on MILFs Affair. It's not worth it. The site is just going to try and scam you as much as it possibly can. All it wants is your money. It's not going to do anything to earn it. It's just going to try and scam it from you.
It's how a lot of sites on the internet work. If you see this site advertised, just ignore it. You'll be much better off somewhere else and you'll have more of your own money.
Look, I've checked out lots of other milf sites such as Milfshookup.com, FreeSnapMilffs.com, and a bunch more. Guess what, they all suck! If you wanna bang, just use this site first and it'll happen.