Everyone that I know wants to hook up locally with someone. They don't want to have to go out of their way to meet people. It's pretty obvious that we as a society are lazy and one website is taking advantage of that. The Local Hookup site is a dating site that markets itself as being a local dating site, but it's nothing of the sort. LocalHookup.com is a scam and you'll soon realize just that when you read my report.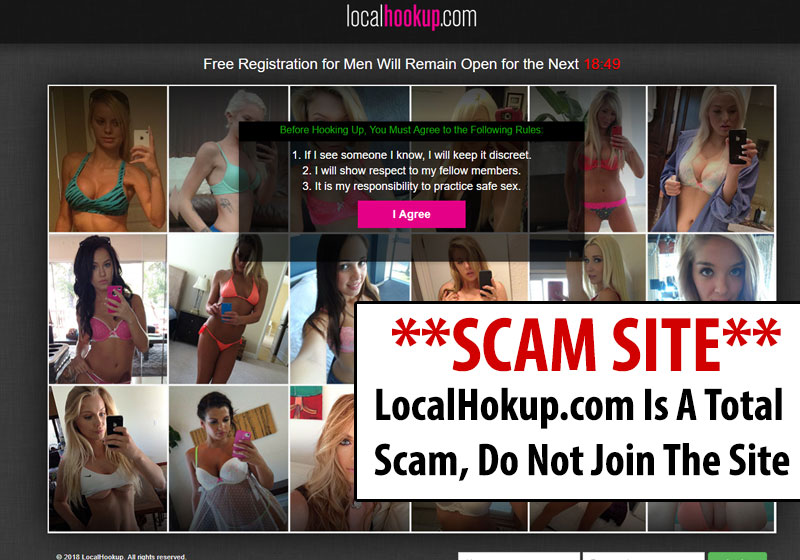 My Personal Local Hookup Site Review
I've left nothing out here. What you see is what you get. Sorry if you're upset or not satisfied with things, but this is my story and experience about Localhookup.com and I'm sticking to it!
Overview
Users of the internet are used to seeing spam ads that claim that there are local girls desperate to hook up with you. These sites snatch your IP address and guess where you're located, and claim they have hot girls who are in your exact area. Lots of scam sites do this including the one reviewed on this page.
Local Hookup is one such site, and if it all seems too good to be true, that's because it is. While these sites may look like a typical dating site, and feature a gallery of beautiful girls, you have to understand that this is all an elaborate fraud. Their true endgame is getting your credit card information as quickly as possible. They have no intention on having you hook up with anyone, and you will soon realize there literally isn't a single real profile on the site.
Copycats Everywhere
Did you know that there's one main thing that most of these scam sites do? Sites like Local Hookup are successful because they do a pretty good job at mirroring what you would see on a typical dating site. They have common features that you would expect on such a site, like chats, social feed, and even x rated videos.
The promise of pornographic content should be your first red flag.
Real dating sites do not like being perceived as pornographic and go out of their way to not present themselves as a place for sex solicitation. However, localhookup.com acts very much like a porn site (like this nonsense), and that's because they want to lure in the most desperate people. I guess the site believes that they'll have better luck servicing people looking to jack off to porn versus spending time actually trying to connect horny locals.
The Fees Are Killing Me
If you want any more proof that the site is fraudulent and pornographic, they lie about the free membership. Once you sign up, they say that they need you to confirm your age with your credit card information. No real business will ever ask you to do such a thing, because it's not necessary for such a practice to exist. But you have to remember that all they want is your credit card.
Once they get it, you'll find that they immediately hit you with three separate charges to porn sites and that all the charges are recurring. These fees add up to over a hundred dollars a month.
If they are so quick to lie to you in this manner, best believe they will lie to you in every other way. That goes from the profiles to the pictures, to even the messages.
Wrapping Things Up: Local Hookup Is A Scam
Okay, so what you need to know is that none of the profiles here are real. They are filled with fictitious information in regards to location, interests, and availability. The availability should be at zero because the picture you see on the profile isn't even of a real person. It's stolen from other places on the internet, that's why all the girls are so beautiful and scantily clad. No regular girl would ever have a need for such a site if they were that hot.
All those hot webcam messages you receive? They are prerecorded loops and you aren't interacting with a real person. Same for all your private messages and emails. These are computer software generated responses. They admit to these practices in the terms and conditions that you are forced to agree to so that they are not liable for this fraud. You should run far from this site if you ever come across it.
Look, you want to find some local ass to smash? Great, I got you covered right here!