If you're using Skout.com to hook up, then you're doing it all wrong. There's no doubt about it, lots of people are attempting to use it but they're more than likely not very successful at it. That's because it doesn't really work all that great. If you're trying to use this to get laid, then you're doing it wrong. In fact, your better off deleting your account completely and using this app here instead.
Skout is an app that a lot of people are trying out, but few actually like. If you've already downloaded and started using it, you probably want to get rid of it. It just doesn't work properly and lots of people complain about not being able to use it after they make their accounts. There are plenty of reasons why you should want to get rid of your account here, so these are the instructions to do it. You'll need to use the app to do it and not the website.
Whether you're on an Android or an iPhone, these directions will work as long as you follow them. You can also cancel your paid subscriptions if you end up wanting to keep the app as a free user. It's completely up to you, just make sure that you do exactly as the instructions say and you won't have any problems.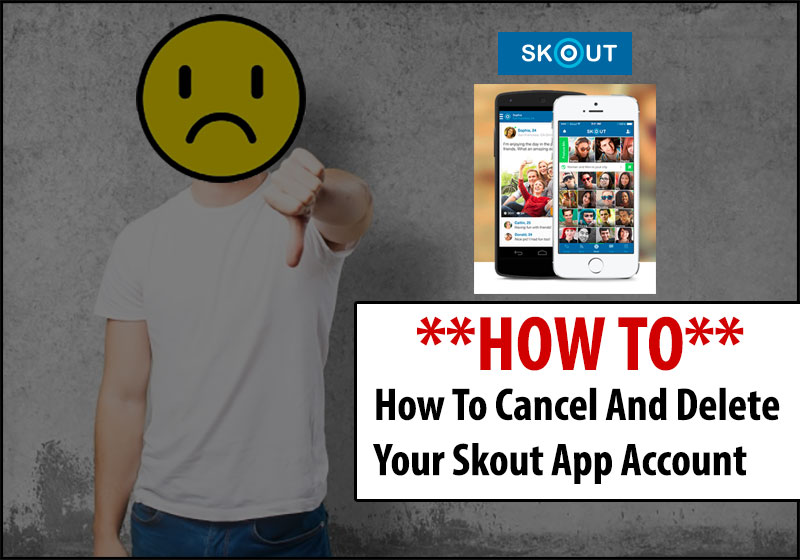 How To Cancel Delete Your Skout Account
1. Click on the app. It doesn't matter if you're on an Android or an iPhone for this work.
2. Tap on the "Me" text. It's in the bottom right-hand corner of the app.
3. Scroll down until you see "Settings" and give it a tap.
4. Now tap on "Deactivate Account".
5. Next, you need to tap on "Deactivate" again.
6. That's it. You're all set. All of your information, photos, and data are now deleted from the app.
How to cancel your subscription on Android:
1. Open up the Google Play Store like you normally would.
2. Tap on the menu button
3. Now tap on "My Apps" to get a full list of all the apps you have installed.
4. Now find "Subscriptions" and tap it.
5. Scroll down until you see Skout and select it from the list.
6. Now all you have to do is tap on "Cancel" and then tap on "Yes". That's it, you're all set and won't be billed again.
How to cancel your subscription on your Apple device:
1. Head to settings and tap on the iTunes and App Store
2. Tap on your Apple ID at the top of the screen.
3. Tap on "View Apple ID."
4. Now just tap on "Subscriptions to get a list of all the apps you subscribe to.
5. Find Skout and tap on it.
6. Now all you have to do is use the options to cancel your monthly membership. It's really that easy.
And there you have it. That's all you need to do to cancel your Skout account and subscription. They won't be able to charge you again after this. Now you're free to find an app that actually works for you and gives you access to people near you. It's always best to research a site before you join it, but when you find yourself on one that you don't like, there are always ways to leave it. Don't keep spending your money unless you're actually using the service. All it takes is a few minutes to cancel your account.