I've been doing research on the Hookupcloud.com site and today I'm sharing all I know about it with you. This is the full scoop so that you don't make the mistake of doing something you'll soon regret. I've left nothing undisclosed – just straight facts!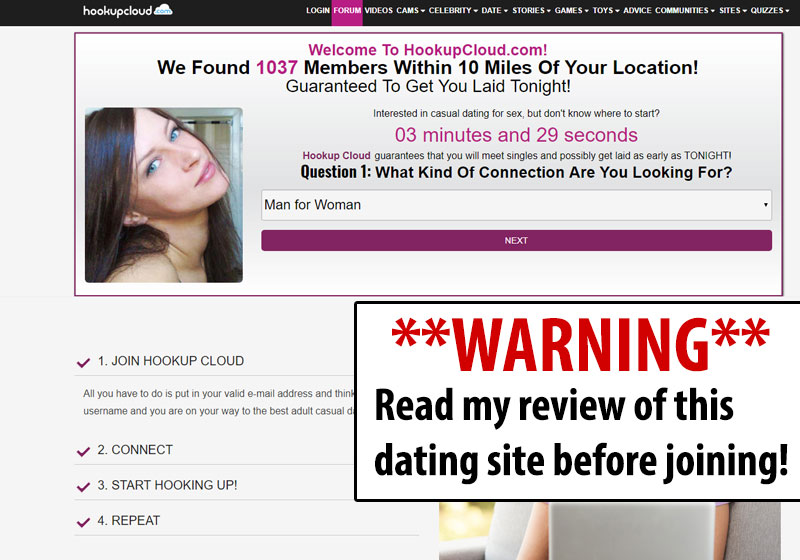 The Truth About Hookup Cloud Revealed
This is the internet and morality went out the window a long time ago. It's no surprise at all that you can find women who you can pay to do all sorts of things. Some of those things are more worthwhile than others.
HookUpCloud, for instance, would have you pay "women," to pretend to flirt with you. The term is in quotes because they're probably not women and they're certainly not the ones you think you're talking to.
The site makes you agree to be contacted by their employees who are posing as members. It's not a new scam in any sense of the word. It gets played out thousands of times a day online. You just have to make sure that you don't become one of the victims. This site is going to try and get you from any direction they can. Here's how they do it.
You Get Tricked Into Buying Porn
The Hookupcloud site claims to be free when you sign up. They still need your credit card information, though. Any idea why? Well, it's simple. They're going to go ahead and sign you up for a shiny new porn site without explicitly asking for your permission. There's a tiny line of fine print at the top of the signup page. It's incredibly easy to miss and for good reason.
They want it to sneak in under your radar.
If you leave the box checked, you're going to be on the hook for a recurring monthly charge. It's not cheap, either. It's to a third part porn site that's partnered up with Hook Up Cloud. They've both gotten together to steal your money and you're going to totally y miss it if you don't know what to look for.
The Women Are Employees
If you still haven't signed up for a premium account, you're in for a treat. You're going to be getting tons of messages from really hot women. You'll have so many of them begging for your attention that you won't know what to do with yourself. But you're not going to get her to have sex with you.
At least that's the lie you're being sold. In truth, the people talking to you are paid, employees. They're only there to convince you that paying for your access is a good idea. If you do a reverse image search on the profile pictures, you'll see that they're stolen from porn sites. Nothing here is real.
Conclusion: Stay Away From The Hook Up Cloud
Hook Up Cloud has nothing to offer you. They're going to steal your money and give it to a porn site. You'll be charged every single month until you take action. The fine print is meant to be so small that you miss it.
They also pay people to pose as women and talk to you. It's just one big lie after another. You won't gain a single thing from using this site. It's dangerous and there's no telling what they're doing with your information. If you want to put your trust in something that's not going to take your info and run, then use this gem.