Have you used the WellHello.com website? A lot of people are saying good and bad things about it. I'm here to share my thoughts and help you put aside any of the other nonsense most people are spewing at you. This dating site review will set the record straight, no doubt about it! Here is the scoop and everything you need to know about this dating network. I promise you will be quite shocked when you read what I'm about to share below. If you rather not and you want to simply get to the good stuff, then check this website out.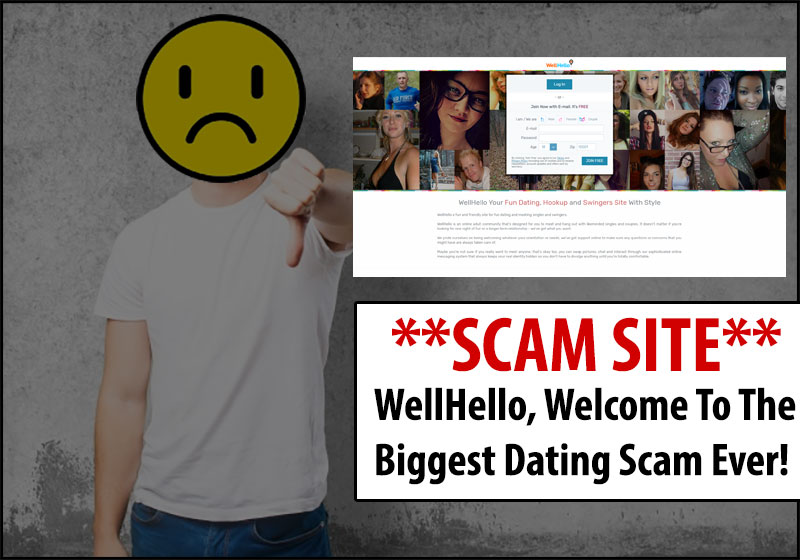 My Review Of The WellHello Site
Okay, so it sounded like I was going to completely sugarcoat this thing, but I'm telling you right now, that's not going to happen today. When it comes to wellhello.com, I'm here to set the record straight!
Well Hello there! This is a well-known scam site that has been operating for years. Unfortunately, it has still been able to dupe people out of their hard earned money with no real consequence. Like other scam sites, it's explicitly copied after the most popular cam sites on the web.
They try to convince you that this is a site exclusively for swingers and those looking for them. It doesn't take long for you to be asked to sign up to view any relevant content, and once that happens the scam begins. They'll send you over to an unsecured third-party network to make it easier to take all types of information from you.
Getting Started With A Profile
Creating a profile is the quickest way for them to get after your money. They claim to offer several services, like an inbox and large picture galleries. They even offer you a one dollar twenty-four-hour trial membership.
They are so quick to give you access because they want your credit card information any way they can get it. This is because there are no real people on the site at all. All the pictures are stolen from other places off the internet. If you were to reverse search them you would be able to see that many of them are of porn stars and cam girls who already work for other sites. These girls would never be on a swinger dating app.
Fake Profiles And Emails
If you've made the mistake of signing up, this is when these fake profiles will begin bombarding you with messages and emails. It's clear that these are computer generated because the messages are generic and repetitive.
What will happen is they send you an alert that one of these attractive women wants to talk to you. But the only way to see the messages is to upgrade your account. This is how you know it's a scam because even though they claim some options are free, you can't really access anything without giving up all your info. All this deception is just a way to steal your money.
Pretty Layout, Not So Pretty Scam
No matter how enticing the layout of this site is, you have to understand it is a complete waste of your time. The content that is on the page is stolen. The profiles are stolen and are often being run entirely by computer bots. Once you sign up you will be spammed relentlessly with messages. Any effort you make to respond to these messages will prompt a call for your financial information. With sites like these, it does not even matter if you pay for certain options or not.
Conclusion: WellHello Sucks, #EndOfStory
It functions on an unsecured network which leaves your info open to all types of people. They could charge your card or sell your card info to hackers. By signing up, your financial institution may claim they are unable to reimburse you for the lost funds. Because of this, you should avoid this site at all costs. There are legit sites that won't steal your information or money that you can enjoy.
#EndRant
Another shady AF dating network to avoid – Fuckbuddy.co.uk