I've been using the best dating app on the planet for years now. I've tried so many and one fo them that I tried was WhatsApp. The WhatsApp messenger serves more than 1 billion people in 180 countries. I was excited when I first learned about WhatsApp and their Web application. I thought that it would be perfect for online dating. It seemed like a great idea and just what we needed. Sadly, it does not live up to the excitement. Here are the main reasons why WhatsApp sucks for dating.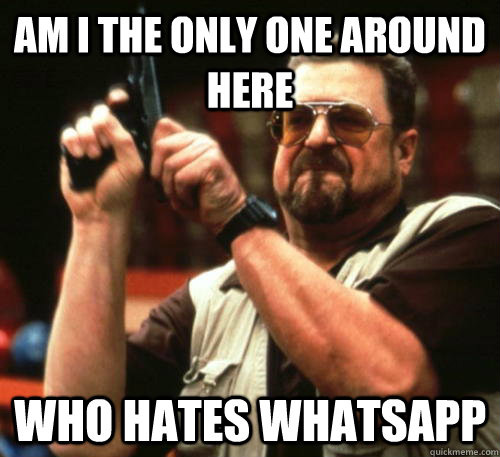 Why WhatsApp Really Sucks For Dating
There are plenty of reasons why WhatsApp totally blows when it comes to dating and hooking up with people. Here are some of the many reasons why I firmly believe it sucks big time.
It's not very compatible with the iPhone – If this is supposed to improve messaging functionality for multiple users all over the world, why doesn't it work flawlessly with the iPhone? WhatsApp works best with Android, so that alienates all the millions of people who use the iPhone. That's not cool. The company claims that it's because there are problems with push notifications. If that's the case, why release it if it's got issues. Hate to say it but, not impressed, party of one, front and center!
It's only functional when you use it with the app – WhatsApp does not work independently. You can only use it with your smartphone. The only messages you are able to receive and are forwarded to the browser, are the messages that you receive on your phone. This means that WhatsApp must be constantly running in the background on your phone if you want it to work. I hate doing this because it eats into my battery life which brings me to the following…
It's hard on your cell phone battery – Because the web service is not able to run independently, you must leave it running in the background on your phone in order to receive messages. That means that it's constantly draining your battery, even when you are not using it. The last thing you need is another app putting a constant strain on your cell phone forcing you to charge it more often. Who the heck wants to carry around an extra battery on them too. I mean, come on now! You don't want to be messaging some college girl that you're hoping to hook up with only to have your phone shit the bed just like that!
You can only use Google Chrome – As if limiting its use to Android users wasn't enough; WhatsApp is also limited to users of the Google Chrome browser. This is a popular and well-made browser, but not everyone uses it. If you use another browser, you are going to have to make the switch to Chrome if you want to use WhatsApp.
It takes up a lot of data – The only time that it's advisable to use WhatsApp is when you are connected to a Wi-Fi connection. If you do not connect to Wi-Fi; your data will be used up before you know it. You won't just be using data when you are actively messaging. You will also be using data while it's running in the background on your phone.
WhatsApp might be a good web service eventually, but it needs some work. Until the above-mentioned concerns are addressed, it is not as useful as we originally thought. Instead, I'll continue to stick with the apps and services that continue to help me achieve all these dating goals that I have.