I have been banging milfs for as long as I can remember. In fact, I've been doing it for so long, I forgot what it was like to not get laid. Well, that is until I found this Milfshookup.com website. It's a bunch of nonsense and a complete fraud if you ask me. Here's what you need to know about this site and how they operate…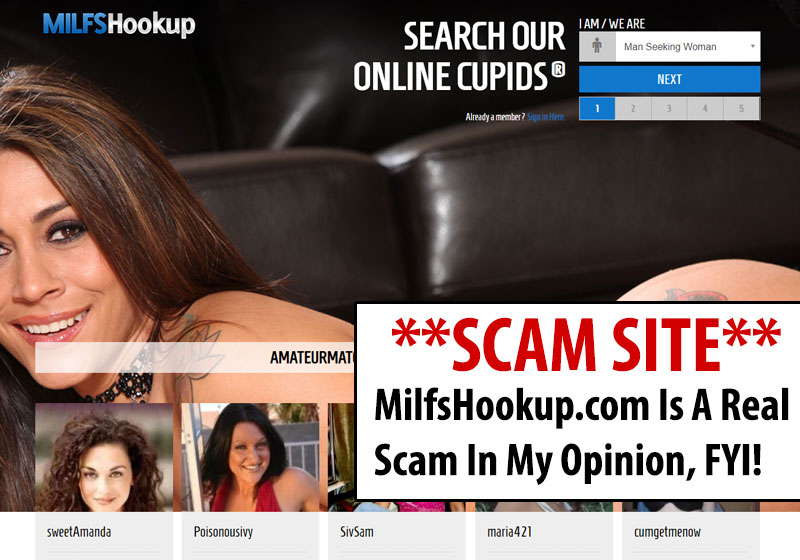 My Review of Milfshookup.com
I waste zero time here and dive right into this hocus pocus fake dating bull…
The world of dating site scams is a pretty diverse one, and one of their favorite tricks is to create niche sites so that they can attract a dedicated audience. They know if they have niche content, they are more likely to get a consumer base that is desperate for these types of women, and thus more likely to give up their credit card information.
This is what's happening on MILFshookups.com, where they are using a gallery of hot images and videos of older women as a means to lure men into the site. This site claims to have live cams and live chats and this is all designed to make you feel like the site is filled with women.
This couldn't be farther from the truth.
This can seem like a very attractive place to frequent, especially if these women are just your type. However, this is simply the first of many dirty tactics used by this site as a means to come after your money.
They Admit To Using Fake Profiles
The site looks and functions much like a typical dating site. The index page legit is built to look like a reputable dating site and many of the features, like direct messaging and search, are also available. However, before you can go any further you are prompted to agree to the terms and conditions. This is how they get away with scamming you legally, by making you sign a document that says you acknowledge the business practices being used.
Right in the terms & conditions, it states that you have to agree to the use of Online Cupids on the site (same deal as here). This is another way of them saying that there are fake profiles on the site that are either being run by employees or being run by computer bots. They pretend like these accounts only exist for promotion purposes, but the reality is the entire community is made up almost entirely of these accounts.
Conclusion: Nothing But Fake Messages and Content
This site is nothing but a fraud and this becomes clear the moment you sign up. You will find that several of these Online Cupid accounts have already messaged you and emailed you, and are claiming to be desperate to talk. The moment you try to talk to any of these accounts, you are prompted to upgrade your account.
This is how they get people. If you do end up talking to a real girl, she's almost surely a paid employee whose intention is simple to keep you on the site as long as possible so they can bill you as often as they can. People don't realize that it's possible to get stuck on these sites for a very long time when the company thinks they got you fooled. They will do anything to keep you on the site for as long as possible.
This site may seem enticing because of the quality of women that appear to be on there, but these profiles are all stolen images from across the internet. This site is connected to a variety of other very popular scam sites. If you come across this site or any like it, you should avoid it at all costs no matter how expensive or cheap it might be. If you want to hookup, just use this network – here.