As you know, I disclose everything to you
about myself
and the things that I like. Well, this time I'll continue that trend and confess my undying love for milfs. That's right, I'm 100% a milfaholic as I can't seem to get enough of them. This is why at one point I decided to give Milfaholic.com a try. This is one of those milfs only dating websites that try to lure you in by showcasing some pretty sexy mature ladies.
But don't take action just yet.
There are a few things that you need to know about this site and what it entails before diving in headfirst. Things might not be what they're portrayed as that's all I'm saying! Read my review before entering your email address or kicking off any dating services on this site.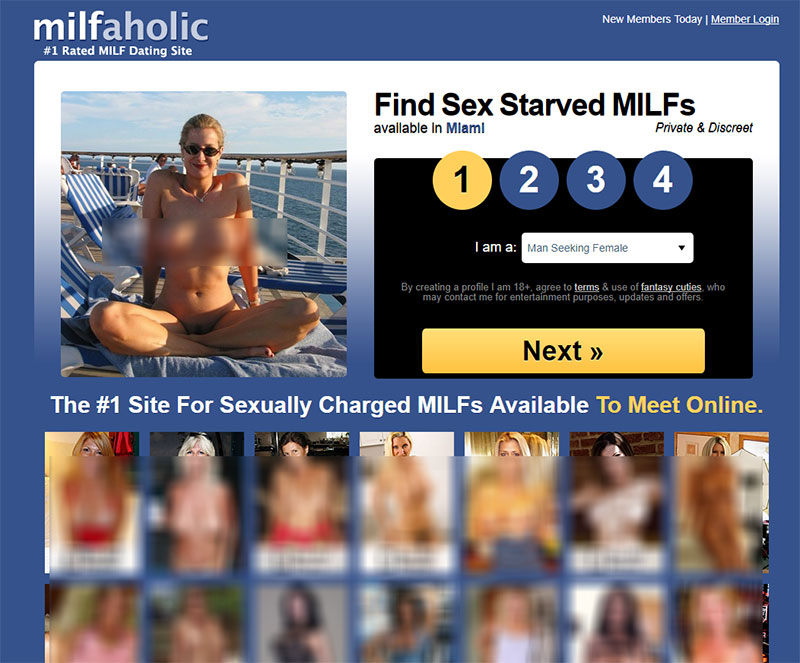 My Milfaholic Review Reveals Everything
First off, don't get angry with me while reading this. You might not like what you hear. Milfaholic promises a lot to its users, but it never delivers on a single thing.
They make claims of being able to offer you not only a way to talk to older women who want nothing more than to jump your bones, but the chance to text them directly and interact without all of the challenges that come along with emails. It's all within the instant messaging system that they have.
You can talk to them in "real time" and maybe even share a few selfies with each other, but none of it is real. Nope, not in the slightest fashion. It's all run by bots that only want to convince you to upgrade your profile and pay them for nothing. Quite frankly, you'd be better off messaging girls on Kik versus Milfaholic.
Warning Sign: Not Real Dating = No Real Milfs Here!
Not a single woman on this site is real. You'll have to legally agree to be contacted by robots in order to create your profile and that's how they get around this.
If you take a look at the terms of service, which is something that almost no one ever does, you'll see that you're agreeing to a bunch of crap. Read the terms and you will want to turn around and cancel as fast as you possibly can.
If you're not already a member of this site, then don't bother with it. Nothing is worth spending your time to get nothing in return for your hard-earned money.
More Membership Red Flags Do Exist!
The other big red flags are the profile pictures themselves. Not a single woman on any of them is a real user. It's not terribly difficult to figure out that they are fake profiles. These do not feel like real people to me.
In fact, if you have a few spare minutes, you can entertain yourself with some Internet image searching. Just pick out any of the profiles and run the picture from it using a reverse image scan. Chances are that you're going to find out very quickly that it's still from an adult site.
It's not clear whether or not these private photos are being used with permission, but it's extremely obvious that they're all intentional scams. No porn star would ever need to use a MILF hook-up site.
They get more than enough sex just by clocking into their day jobs. Also, they've got plenty of people willing and able to connect with them via social media. In other words, they don't need you.
Be Prepared For Crazy Fees and No Dating!
The fees that this place charges aren't mind-bogglingly expensive, but spending a single cent on something that isn't real is never acceptable.
They more than likely use the cost as a justification for the members to stick around, no matter how many times they strike out with someone that they're trying to talk to.
It will run you roughly the same amount of money as a paid porn site, which makes a whole lot of sense since porn pictures are all that you'll be getting for it.
Final Thought – No Users Huge Scam Avoid Hook-Up App!
There's just nothing redeeming about this place at all. No special features, no good search feature. Fantasy cuties, suspicious users, no horny milfs, automated communication bots, and more. From the second you sign up, you're going to start getting scammed. No one here is real and all of the features that they offer are nothing more than smoke and mirrors. It's such a waste of time that it's not even worth clicking around for free.
They have nothing more available to you than you would be able to find through a free image search. Stay far away from this place and you'll be better off. If you're looking for a top-notch dating site, then read the
front page of my snap sext site
. You'll learn where to go to meet girls.