I've been known to test out a ton of random dating sites over the years. However, most of the time I'm using sites that don't have anything to do with mainstream dating, such as this one here. This time, I decided to take a different approach and give the infamous Match.com a once over. When I tried the site, I had a pen and paper handy which is led me to start taking notes and document everything that I encountered over the short period of time in doing so.
The site's been around since 1995 and it's one of the oldest and most well-known and highly respected sites in the dating industry. However, you might not get laid using this site. I'll tell you why exactly! Regardless of how many millions of people use a hookup site, it doesn't mean that it works or that it's worth your time and money. Here's what I know about Match.com and what you need to know as well.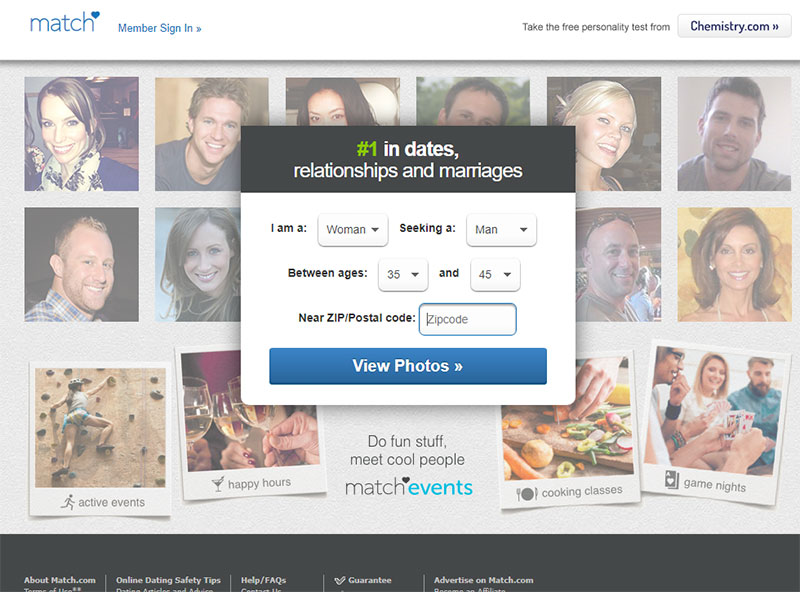 Everything I Learned About Match.com While Trying The Site
The first thing that you need to know about Match.com is that it's one of the oldest websites on the planet in terms of dating and matchmaking. The fact that it's been about for years is pretty impressive. However, I must say that the things I learned about it were not impressive at all. If anything, it really made me feel quite disappointed, to say the least. Here's what I learned…
Your Information Is All There Info
Once you decide to provide any information at all on this website, Match.com has the legal right to do anything that they'd like with the information you've provided. I'll come right out and tell you that regardless of the information you provide, you will not get laid using Match. I don't care if you share everything down to the hobbies that you have and any personal things that interest you, it doesn't matter. I spent about 25 days using the match.com site and it never amounted to even a single meetup. If you take the time to read the terms and conditions, you'll soon realize exactly what I'm talking about here.
They Reproduce Your Profile
My guess is that Match.com goes out of its way to reproduce your membership. If you take a close look at the profles on this site and other Match.com or IAC related sites, you'll soon notice that dating profiles are similar or even identical throughout the site. This is because many of the profiles are reproduced to make the network look and feel bigger.
What does this mean exactly?
It simply means that they can take all your information and do as they please with it. Additionally, it may mean that some of the profiles that you're viewing may not be real. I'm not to keen on using dating services that incorporate the use of fake profiles or even replicated profiles for that matter, that's all I'm saying.
Fake Communications
If you take a close look at the Match terms and conditions, you'll quickly notice that they make it a point to mention the use of sending communications to users. Are they fake? I'm not quite sure but what I can say is that they most definitely are not real people if they are coming from the website's parent company. I'm not one to want to spend time chatting with people working on the Internet out of an office looking to "talk dirty," what a waste of time.
The Cost Isn't Cheap
Yes, you'll need to pay to play and it's going to cost you a pretty penny. Match.com isn't cheap and it costs more than most sites costs, especially for the fact that it doesn't really work that well. Here's what I can tell you about the plans. They have two different types of plans that they offer. One is called the basic plan which costs anywhere from $35 to $191 based on the amount of time you commit to.
Then there is the bundle plan which costs anywhere between $68 and $197 based on the amount of time that you want to join. Both are a huge waste of money, nuff said really.
Rebills, Data Breaches, and Lawsuits
I did a little bit of research and learned a few more things that made my stomach churn when looking into Match.com. For starters, the website rebills you monthly and it's a pain in the neck to cancel that rebill.
Additionally, the company had malware and data breach issues that they've been dealing with over the years. People are always trying to get a hold of consumer information and they seem to be able to successfully do so.
Lastly, they have been sued by many people in a class action lawsuit. Specifically, The Match.com Class Action Lawsuit is Graf v. Match.com LLC, Case No. 2:15-cv-02913 in the U.S. District Court for the Central District of California was the case. This was all due to entering in an illegal contract with consumers.
Final Judgment: Match.com Isn't Worth Your Time or Money
One thing I can tell you is that Match.com did not work for me. I spent hours using the site and nothing positive came from doing so. Not a single thing and although you'd think it should have, it didn't. Super upsetting to say the least. Don't join Match.com because you'll never hookup or get laid doing so. I can almost guarantee that!
If you're looking for other mainstream dating sites and apps to learn about, then read my tinder.com review as well.