Okay, so today we'll be covering exactly how to turn off auto-renew at AFF aka Adultfriendfinder. This feature is a common one and one that you need to know how to activate and more importantly, deactivate!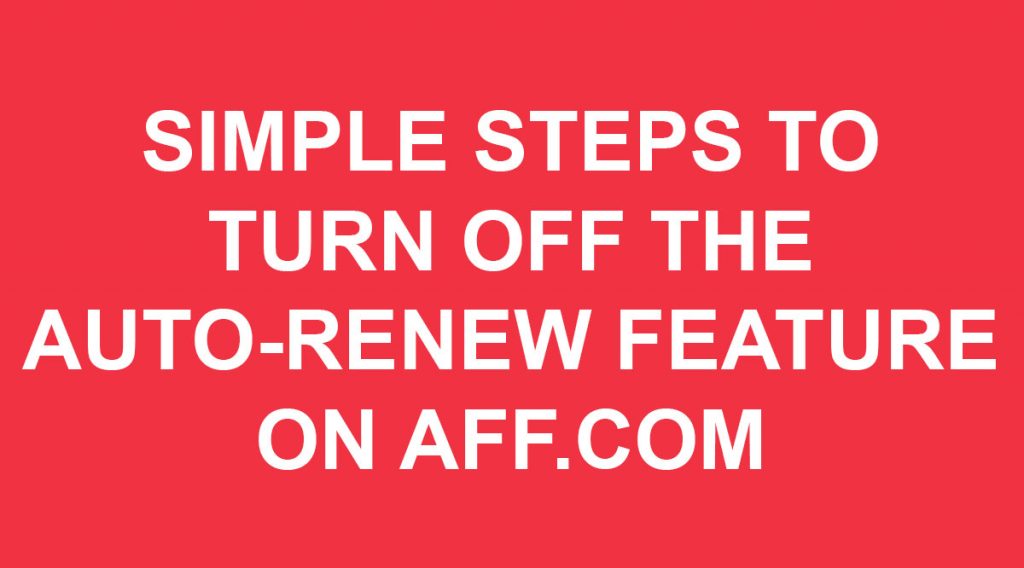 Step To Deactivate Auto-Renew On AFF.com
Most dating and hookup sites come with a really handy feature. They let you enter your payment information and set your account to auto-renew whenever your membership is up. This makes it incredibly easy to pay your bill without having to spend any time as a free user.
Of course, there are some times when you don't want the money to automatically come out of your account. You might want to take a break or just be there to pay for it yourself. If that's the case, here's how you can turn off auto-renew in AFF.
Log In to Your Account
The first thing you have to do is log into your account. You can do this in your normal way. If you want to do this in the easiest possible manner, then you also want to be doing it from your desktop.
There are other ways to turn it off, but being on the actual site on an actual computer just works out to be the easiest way. The rest of these instructions will assume that you're on the desktop version of the site just to make it more streamlined.
Select My Account
From your member homepage, all you have to do is click on "My Account." It's at the top of the page and in the menu bar. After that, simply click on "Billing History and Credit Card Info."
From there, you'll see a page with the status of your payment information as well as a few other things. The only thing you have to worry about is "Auto-Renewal." It will have two options for you.
All it takes is clicking "Off" and that's it. Your auto-renewal is turned off. Now you won't have any more auto withdrawals made from your account.
You'll Receive Emails
Now that you've turned it off, you can expect to get emails any time your membership is about to expire. You'll have to head into your account yourself and make the payment to keep it active.
How long to remain a member is up to you, but you'll always know when you're signing up for another term. That's all it takes to make sure you know when money is going out and it makes it easy to take a break from the site whenever you don't feel like paying for your access.
Conclusion: That's All There Is To It
Well, now you know how to turn off auto-renew on AFF as well as just about every other dating site with this feature. You'll be good to go from here on out and never will you ever get overcharged again. You're welcome!
Posts You Might Like: