Today I'm here to share the Hookupgold.com website and why I seriously believe it's a waste of time and money. Believe it or not, there are not many review sites that have covered this scam. However, that only means that it makes more sense for me to do so. You'll find the facts below and why Hookupgold is a serious scam and complete fail IMHO. For those looking to smash, do not even think about it today!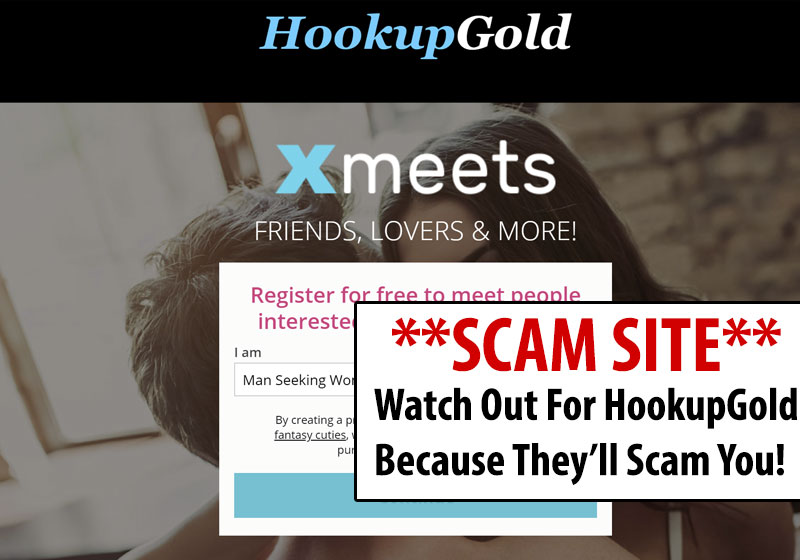 Hookupgold.com Review Reveals The Whole Scam
You never really know what you're getting into when you sign up for a new site. Sometimes things work out really well. The site does exactly what it claims and you enjoy using it. Sometimes it's exactly the opposite. The internet is a very big place and it's filled with people who want to take advantage of you.
The best thing that you can do for yourself is arm yourself with the knowledge of how these places operate. Once you see what they do, you can see the scam coming at you and avoid it. Sites like HookupGold, for example, only exist to funnel you into a completely different scam site.
This particular one sends you to XMeets.com (literally just like this). It's been around for a very long time and everyone knows that it's a scam. That's why people avoid it. That's also why they need to trick you into using it.
X Meets Scams You From The Beginning
If you sign up for XMeets, you'll see how a very common scam operates. You'll start getting messages as soon as you make your profile. The messages will be rolling in and they won't stop. You'll also get plenty of people looking at your profile and sending you chat requests. It seems like that should be a good thing, but there's a problem.
You can't respond to a single one of these messages that you're getting. If you want to do that, you'll have to upgrade your account. That's going to cost you plenty of money. After you pay them, you'll be able to respond all you want, but it won't work out for you. The messages were never real. They were sent by fake profiles to trick you into the expensive upgrade that you just paid for.
Run A Reverse Image Search
If you really want to see the scam in action, just run a reverse image search on the profile pictures. Pick any of the people that just sent you a message.
The result will always be the same. Run a search on the photo and you'll see it over and over again, all over the internet. That's because it's just a stock photo that the company bought. Then they just use it to create the fake profiles that they use to send you the fake messages. It's how the most common scam on the internet always works.
Conclusion: Don't Use HookupGold
The best thing that you can do for yourself is to simply avoid HookupGold. It doesn't have a single thing for you to benefit from. You'll be immediately redirected and scammed.
There are more than enough real sites on the internet for you to use. You don't have to use a site that actively tries to scam you. You'll never talk to a real person on the site. Find a better one and invest your time into that one. You'll be happy with the results.