Dating apps can be tricky and if you find one that works for you then I suggest you use it on the regular. For example, I use Snapsext because I love sexting girls in my local town. I never got laid because of my burrito preference! That's because it's bullshit.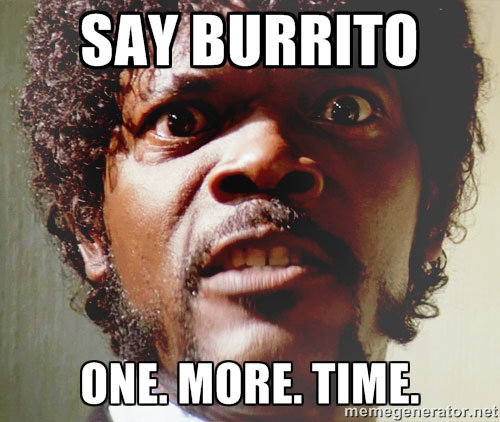 Burrit-OH! Dating App Connects Burrito Fans
Snapsext and other casual sex dating apps connect people based on the fact that they want to have sex with someone local. For the most part, it works like a charm and I think it does because it's so generalized. However, I don't believe that anyone can find someone to bang based on their burrito preferences.
Apparently, the guys over at the mainstream site, Zoosk think differently. They created Burrit-OH! (screenshot shown below) which is a new mobile dating site that I'm actually recommending that you not waste your time joining. In fact, I can't think of any other characteristic that I'd be less interested in knowing about someone.
I mean really, who gives a fuck what kind of burrito someone likes to eat. Is it love at first bite? I think not! Thinking about a burrito doesn't make me want to bang anyone. In fact, it makes me want to sit on the couch, stuff my face, maybe take a couple rips of a bong and pass out.
How sexy can it be thinking about a girl stuffing her face with a huge burrito? What if it's too spicy? That sounds like a stomach disaster waiting to happen. I also don't advise that you even order a burrito on a date. That goes for especially if you're trying to fuck some random chick on a date. Now, if it were based on whether or not someone liked getting sext messages or even naked chatting with someone then that would be a different story. I'll never bring myself to join a dating site that's based on a burrito. It's giving me heartburn thinking about it. I'll just go to taco bell myself, eat whatever the fuck I want and then call a girl to bang after having my own Mexican meal!