I've been planning this soon to be "amazing" trip to Australia and in doing so, I've decided to do some research on the dating networks over there. I figured, there's no reason for me to put off getting laid just because I'm traveling across the world. I came across this site called Aussiematurecontacts.com. I assumed it was one of these sites to meet hot milfs, but it wasn't anything or that sort. In fact, it was a huge scam and an awful looking dating website to boot. I wrote this review in the unfortunate event that someone starts searching for information on this site and that I'm able to help persuade them not to join. Actually, I don't care whether they join or not, but what I do care is that someone does not understand what they're getting into. In this particular case, nothing but trouble.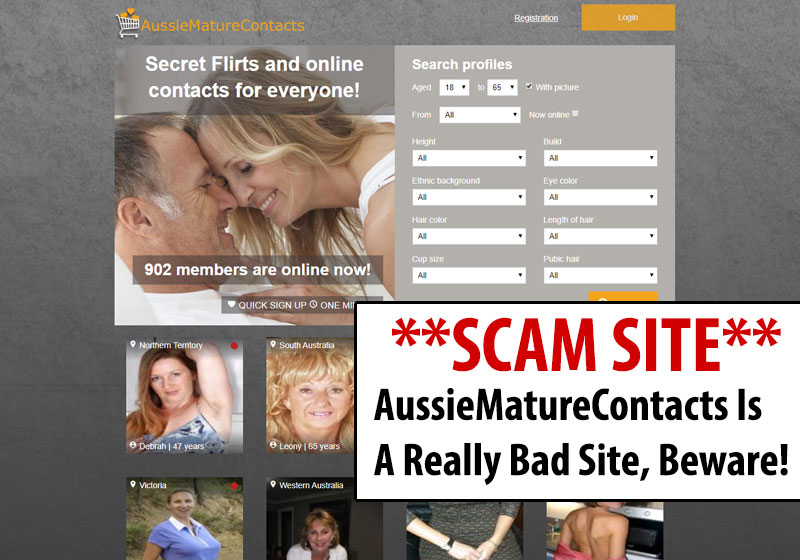 My Investigation Of AussieMatureContacts
In an investigation that surprised absolutely no one, it turns out that Aussie Mature Contacts is nothing but a scam site that tricks you into handing over your money for nothing in return. This very common scam is exacerbated by the fact that you have to pay for each and every single message that you send. This scam quickly ranks itself among the highest in terms of underhandedness. These messages that you're paying to send are simply going right back to the site in a circular scam, that's been ripping off way too many people for way too long.
No way in hell am I going to let this slide either! You can't keep me quite about this nonsense!
Here's how it happens:
You create your profile and you're immediately overwhelmed with how active the site is. You'll be getting messages from tons of gorgeous women who just want to get together so they can have a piece of you.
There's a problem, though.
First off, you never uploaded a picture of yourself and you never wrote anything about your likes and dislikes. These women are just so hard up for action that they pounce on the new men whenever they show up on the site. Does that sound reasonable at all? Of course, it doesn't. None of the messages that you've been getting are real.
100% Site Driven Messages
They're all sent by the site to entice you into responding. The people on the profiles have never existed. Yes, the pictures are of real people, but they've been taken from other sites. The women in them have no idea that their likenesses are being used on a dating site.
It's all business and someone has been paid for them. The messages are just as fake. Either bots send them or paid employees who want to get you on the hook. They only exist to convince you to message them back. That's going to cost you.
Spend Or Get Nothing
In order to respond, you're going to have to spend credits. These credits are purchased with real money. The site is giving you a way to pay to send them, and then they're giving you a reason to send them. It's all one big scam and there's nothing that you can do to get out of it. No matter how much time you spend trying to respond to a real person, it's never going to happen. No one real ever uses this site. It only exists to scam people out of their hard earned money so they can make a profit.
If you ever find yourself wondering about AussieMatureContacts.com, simply make a basic half-ass profile. If you get messages, then you know that it's a scam. No one is going to try to talk to a new member who hasn't posted a picture or written about themselves. This is a very simple test that you can always run. The second you get contacted just walk away.
What's The Verdict: Nothing But A Huge Scam
It's literally a scam and will always be a scam. I cannot comfortably sleep at night knowing that someone looking for a mature Aussie is likely coming to this site and getting completely robbed. Don't waste your time here, please. There are plenty of real hook up sites out there that you could be using instead while seeing real results and finding what you want. Take it from me, I've shared my thoughts on what works. Just take the right action and you'll be fine. Happy hunting!