Do you like hooking up? Of course, you do! Who the hell doesn't! Well, many people may come across a site called hookupsfinder.com thinking that it's a solid option. I hate to break the news to you but it's most definitely not a good one man! HookupsFinder.com is a total waste of time. Here's what you need to know about this hookup dating network and why I seriously suggest staying far away from the site.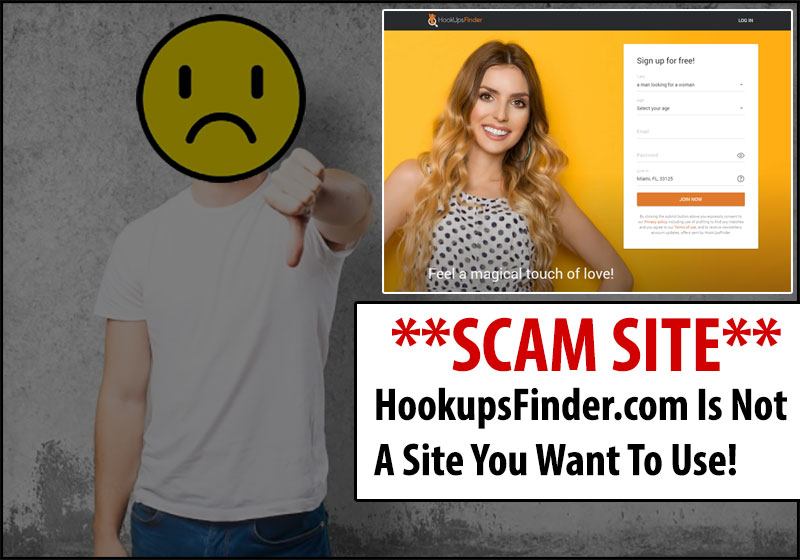 My Rundown Of The Hookupsfinder Website
Wasting no time at all, here's what I think of this nonsense…
HookupsFinder.com, like others in its field, is a fake dating site. To prove this without a shred of doubt, you only have to plant a trap and watch them fall head first into it. In this case, the easiest snare to set would be a fake profile. And when done right, you will notice that even a profile with no information, no pictures or names, nothing, ends up getting a lot of attention.
What Women See
Now, one would be right to question, why all this attention? What do these women see in an account with no head or tail? The answer, nothing. Because they don't see anything. These messages do not have any real women behind them at all. Rather, they are generated randomly by computer programs called bots. They are what is sending all the messages.
Terms And Conditions Rundown
In the website's Terms and Conditions page, it admits that it has been known to use "automatic pop-up notifications system," and that they use "automatically generated activity alerts". To read and reply to these messages, they require you to upgrade your membership and pay up.
But of course, when one does that, there is no real woman on the other end of the line. It's a computer program that is designed to string you along as long as it is able. The cherry on top? You don't even get what you pay for, not for real.
Fake Winks
Not only are these fake emails and messages, but this website goes one step further and introduces the user to fake "winks" and activity on the profile. Apparently, the moment a man makes up a free account, they start receiving notifications claiming that a horde of interested women has browsed their profile and left them "winks."
But the truth is entirely the opposite. These notifications are again the work of the computer bots. When a user, understandably, wants to get in contact with the women so attracted to him, he will find his way barred by the request of upgrading his membership. This is where the money comes in.
People Paid To Chat?
Now, if messages, emails, and winks can be fake, what is to stop HookupsFinder.com from going further? Nothing of course, so they do. The profiles that a user sees when they log in, of hot local women just waiting to meet up, are not real. They are created and kept up by people paid by the website's handlers. Some of the profile pictures here are lifted from other sites.
The purpose of these profiles is to generate a false sense of activity on the site. So obviously, when someone wants to contact these women, they can't, because they don't exist. This is something the website freely admits in their terms page, where they write that they "may from time-to-time create profiles which are created maintained and managed by their employees."
Your Data Is Spread About
After all this, the website still has something else to pull. When a user signs up for this site, they also agree to allow HookupsFinder.com to use their profile information and photographs in other sites it owns and operates. So, not content with ripping you off, this site goes one step further and uses you to keep their operations going.
Conclusion: Total Rip Off 100%!
HookupsFinder.com rips a person in every possible way. You need to be careful and don't sign up, much less pay for their scam. Don't fall prey to such predators.