Michael here to set something straight for you today. I was hanging with my buddies this weekend and we got into an argument about South Florida and where to take girls on dates. I lost my cool on him because he thought he had the best ideas when it comes to going on dates with women in South Florida. Since I spend a lot of time in the Aventura and Sunny Isles area, I named off a few places and he didn't think they were the best. Anyway, it got me thinking and I realized that I hadn't shared any specific local places that are good and relatively nice spots for taking girls you meet on dates. No, none of them are Starbucks, although that does work sometimes.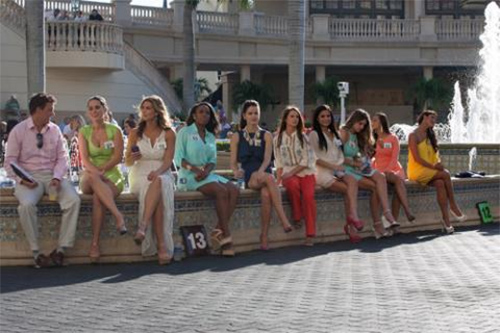 Five Of The Best Date Spots In South Florida (According To Me)
If you live in sunny South Florida by Sunny Isles, then you'll want to check these spots out. Keep in mind that this blog post is geared towards people looking to meet for sex any nothing more.
Gulfstream Park
I'm going to start with one of my favorite places to hang out in the Aventura, FL area. There's a horse track called Gulfstream and it's a great spot to hit on a warm Saturday afternoon. I always just go to the park and start using Snapsext to try and connect with members that are already hanging out at the park. I then message them and end up at posting up at the bar with them for some drinks.
Upper Deck Bar & Grill
Another great spot that I like to go on dates is a casual place called Upper Deck and it's based just up the road from Gulfstream in Hallandale. They serve great drinks, it's a huge place and the food and booze is cheap. Not to mention, there are a few close cheap hotels around the corner if things take a turn for the better. I've gotten so piss drunk there before with a girl I met online that I actually fucked her in my car. It was a kickass experience!
Hillstone
There's a Hillstone restaurant in Aventura that I like to take dates to. The wait staff is super nice and the food is pretty consistent in terms of quality. Assuming you're looking to get a steak or sushi and a martini, then this is the place to take your fuck date. She'll be full, buzzed, and ready to fuck once the check comes your way.
Cheetahs
If you can somehow convince the girl you're trying to hookup with to hit a strip club, then you might be setting yourself up for an amazing night! Cheetahs are one of those dive clubs that's small but the girls are super nice. They don't have a back room but you can get your snapsext date horny by simply purchasing a few lap dances for her. The strippers there love it when you bring girls in and if she's really horny, she might want to walk across the street to the Best Western.
Bourbon Steak By Michael Mina
If you want to spend a lot of money on a smoking hot girl and really impress her, then take her to Bourbon Steak in Aventura. It's close to the Turnberry Isle Hotel which is perfect for those that want to take things to the bedroom. I can't say enough great things about the food. They have fantastic cocktails as well. Now it's not cheap but if you impress a local chick and she thinks you're a baller, she might fuck you just because!
Honorable Mention
I have to give the honorable mention award to a place called Capone's Flicker Lite. It's a pizza joint on the water near the intercoastal. It's nothing fancy but the views are absolutely amazing. Pound some beers and pizza. You won't be sorry!
Well, those are the date spots that I'd think of and the choices that I threw out to my buddy. A couple of them he "dissed" but I don't give a shit. I think they are top choices for date spots with a random girl you meet online. Do your best to impress and you'll be in there in no time!
You should read this article next, https://www.snapsextreviews.com/south-florida-casual-dating-tips-need-know/