Have you ever heard of a site called SPDate? It's one that many people are writing reviews about on the Internet these days. You'll see it advertised all over the tube sites on the web. If you're a deviant parading around the tube sites on a regular basis, then you might have come across a few banner ads of some hot half naked girl saying that she's looking for the D.
You clicked on it and were redirected to this site. I'm almost positive. However, the fact of the matter is that you'll never be able to hook up with anyone on this site. That's because SPdate.com is a straight up scam. Here's what you need to know about this network.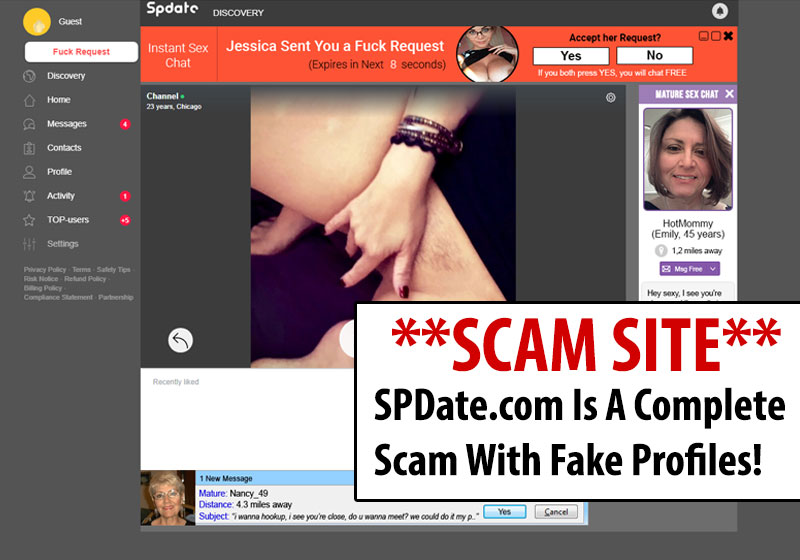 SPDate.com Review Reveals Everything (Good/Bad)
Scam dating sites are so popular on the internet because they work. Companies make millions every year scamming people out of their money by pretending they are offering a place where you can meet hot and horny women in your area. Other sites are better at this than others, but SPdate.com is actually one of the worst offenders.
There are a variety of red flags that should let you know this is a complete scam that may actually be more dangerous than the rest. This is because there is no payment page on the site. What type of dating site exists that doesn't want to make any money? Any place that says they don't want any money, but still finds a way to ask for your credit card information (age verification tactic like this site), is incredibly dangerous.
Close But No Cigar
SPdate.com does a decent job appearing like a normal dating site. You have the typical options and features like a social feed, friend's lists, and access to the top users on the site. Most scam sites will allow you to see messages from alleged women on the site, but you can't read them or respond without upgrading to a paid membership. SPdate.com allows you to interact with women as often as you like. The problem is, none of these women are real people.
You are actually just interacting with computer software. Regardless if there are messages that come straight to your inbox or into your email, none of them are real. The messages are generic and often nonsensical. Likewise, you will begin to receive messages the moment you sign up for the site. It doesn't make any sense that all these hot girls are desperate for your attention before they can even see your face or know what you're into.
Ripped Images Of Random Girls
Oh, one other thing I must share with you. Even worse than the software crap, all these pictures on the profiles are also completely stolen from other places on the internet. Whether it's from regular hot girls on social media, or other professional cam girls and porn stars, a basic reverse image search will reveal that these are all stolen photos.
This should be very alarming to you because any business that uses this type of deception must have malicious intent for their customers. Once you start to pile these factors up, it should be obvious to you that spdate.com is a dangerous website to be on. This is because it exists on a dating network that's just not that secure, period.
Conclusion: SPDate Does Nothing For You
When a site has no payment page, no terms and conditions, and no way to contact customer service, you should get off that site as soon as possible. There are other ways to get your financial information even if they don't ever actually ask you to put your information in. They can use your name and password to see if you use the same password for other more sensitive activity. Hackers are very good at reverse engineering this information and it's even easier when they get you to interact on a site with a non-secure network. Stay far away from spdate.com at all costs.
If you want to connect with horny women looking to get laid, then all you have to do is act on it. What I mean by that is act on it by doing the right thing. Start by using this site here then see where that takes you!