There are a lot of dating sites out there that have members who are honest and simply looking for sex. Not a ton of them are legit, but some really are. Unfortunately, the number of sites out there that are legit seems to be dwindling and with regards to the Members-Dating.com site, this is on the bad side of the fence. Are you looking for a hookup site that can deliver? If so, then I'll be shocked to find out that this one actually worked for you.
I haven't had any luck at all with this one and my guess is that you will not either. Don't worry though, I've got a whole investigation to share with you which lays the foundation and groundwork of things. In other words, I've disclosed the reasons why this site sucks, point blank. TL;DR well, it's nothing special honestly. If you want to get laid – do so by clicking here.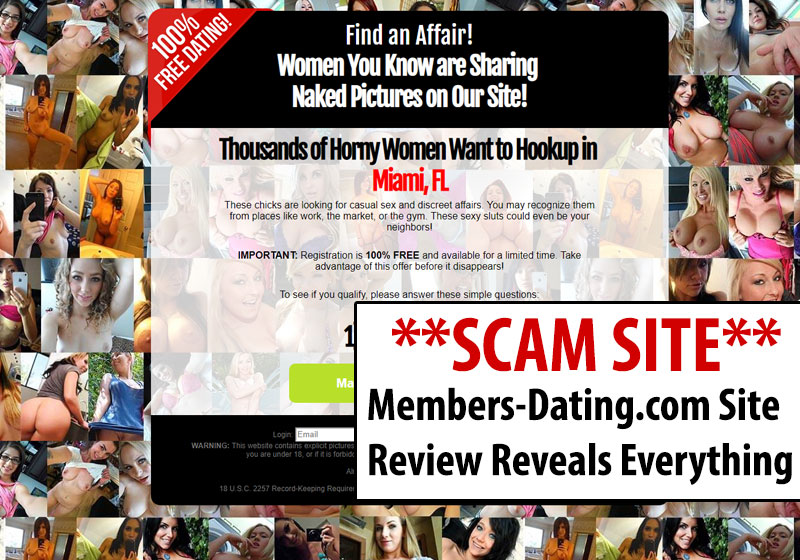 Members Dating Site Review Tells It All
Here is the whole enchilada and everything you need to know about the Members-Dating.com website. I've covered more than just the basics here and you'll be glad that you took the time to read this before wasting your money.
Not A Simple Scam
While many people are aware of the constant scams that run rampant on the internet, people still don't realize just how sophisticated and elaborate these scams can be. These scams pull in hundreds of thousands of dollars from unsuspecting consumers, and that's because they are dedicated to giving off the appearance of a legit site.
Design UX/UI
Members Dating is the type of site that's gone to great lengths to resemble a legit site. They copy the design layout, functions and options, and even font down to a tee. They do this because they have been successful with the scheme before. They try to lure people in with seemingly low-cost packages, like a three dollar for a three-day subscription but fail to mention that this is how they set you up for recurring monthly fees.
That fee will turn into $40 a month, and then you will find that they have also billed you for two separate recurring fees for porn sites that they hide in the terms and conditions. This is only one of many red flags that this is not a safe site for consumers.
Terms Tell It All (Even The Scam)
These types of websites keep getting away with this fraudulent behavior because they lay it all out in the terms in conditions. People rarely read the terms and conditions, and scam sites exploit this loophole so that they can take advantage of you without consequence. They often employ staff run profiles on the site, so they can give off the image of an active community.
These profiles go by many different names across the scam dating site world, but they all function the same. Here as well as here they are called Love Stars. It's these companies run profiles that populate most, if not all of the site. These profiles are either run by third-party employees or are not even real people but computer bots that are designed to harass and message you constantly. They just want you to upgrade your package and stay on the site as long as possible.
Real Women Here? Think Again Buddy
At this point, you shouldn't be surprised at all to discover that there are no real women on this site. All the photos you see have been stolen from other places all across the internet. A simple reverse image search will show that they have been taken from porn sites and cam sites.
You will receive a variety of messages, both in your direct messages and your email inbox. Trust and believe that all of these messages are coming from computer software and not real people. The messages are generic and often repeat and don't seem coherent. However, they all want you to upgrade your account to talk to them. And that's how you know there's a scam going on.
Promos Only
The site admits upfront that they have profiles showing that are not actually real and are just there for promotion. They just don't admit that literally, every profile on the site is such a profile. However, by having you sign the terms and conditions, it insulates them from having to be responsible for defrauding you.
You have to understand that there is a very low chance there are any real women on here, just men who did not realize it's a scam. You should avoid this site.
Conclusion: Members-Dating.com Network Is Worth Nothing To You
If you're looking to smash and dash, then pass on this. It's not going to happen here at all. I can 100% promise you that this will not be a good investment of your time or money. There's just too much wishy-washy stuff going on here to be quite honest. Steer clear from it and if you want to get laid, start by reading this article first.