When I think making love it makes me want to cringe. I just want to hook up and be done with it. However, that never stopped me from using a site called Loveaholics. That said, I'm not about to say that it changed my life in any positive manner (def not like this did), so please don't think that. In fact, it had the exact opposite effect! Find out everything I learned about the Loveaholics.com website and why you should consider passing on registering altogether.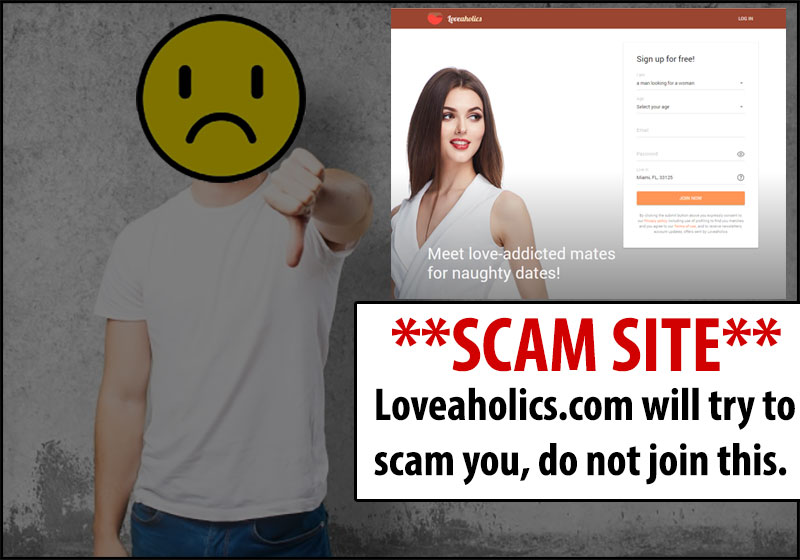 My Review Of Loveaholics.com
This Loveaholics review is obviously my personal opnion. Keep in mind, I'm quite open about things and I've put a lot of time and energy into testing out other dating networks. This one just doesn't make the cut and you'll soon know why…
It's A Scam
Loveaholics is your typical scam site that uses all of the usual techniques to trick you into paying for VIP service. It doesn't matter how much time you spend on the site or how many people you message, the outcome is always going to be the same. You're never going to talk to or meet anyone from this supposed dating site.
That's because it's not run like a dating site. It's simply run like a scam. The concept is nothing new and it happens every single day on the internet. At any given time, you can find hundreds of site just like this one.
Free Registration Funnel w/ Fake Profiles
All you have to do to see the scam in action is making a free profile. What's going to happen next makes no sense. Even if you refuse to put up any information about yourself, you're going to start getting messages. In fact, you're going to get a whole lot of them.
It's going to seem like women from all over the site are practically begging to talk to you. That's not what's happening. All of the messages are fake and the profiles that are sending them are created by the site for just that purpose. You're basically being lied to.
Upgrade Required
The reason that this is happening is the way the site works. If you want to read and respond to your messages, you're going to have to upgrade your membership. You won't be able to do either one of those things until you give them your money. That's the entire reason that the site exists.
They have no interest in introducing you to new people or giving you a platform to find someone, they just want your money. They're only here to make you believe you're getting real messages so you'll pay to upgrade your access and respond to them.
Messages Discontinued Once Upgraded
As soon as you upgrade, you can try to respond to the messages that you've gotten. It doesn't matter how many or which ones, the result is always going to be the same. You're never going to hear back from the people again. The messages were sent by bot programs and you never even had a chance.
Even the profile photos that you see have been purchased or stolen from other sites. No person that you see here has any idea that their likeness is being used by the site at all. In fact, most of the images are probably coming from porn sites from all across the internet.
Conclusion: Loveaholics Will Cost You Money, Nothing In Return
There's no reason to spend any time on Loveaholics. It's all just one big scam. No one here is ever going to meet up with you and they're not going to talk to you. Every message that you get is going to be fake. That's just the way that it is. If you pay to upgrade your account, you're just wasting your money.
It's not going to get you anywhere. The best thing you can do is forget that this site even exists. You'll be happier without it. If you're wondering what other scummy sites you should avoid, I'd say read this review and stay the hell away from the sites listed there as well.