Today I'm hitting you with another straight punch to the gut. Unfortunately, you've got to take it like a man or whatever they say. I'm sharing what I know about a site called Live Dating Club. It's pretty much nonsense and you'll most likely agree with me on this too. This report paints an ugly yet truthful picture of the site and why it's NOT meant for people like you and me. In fact, it's meant for no one other than those who are looking to lose their money with zero ROI when it comes to hooking up.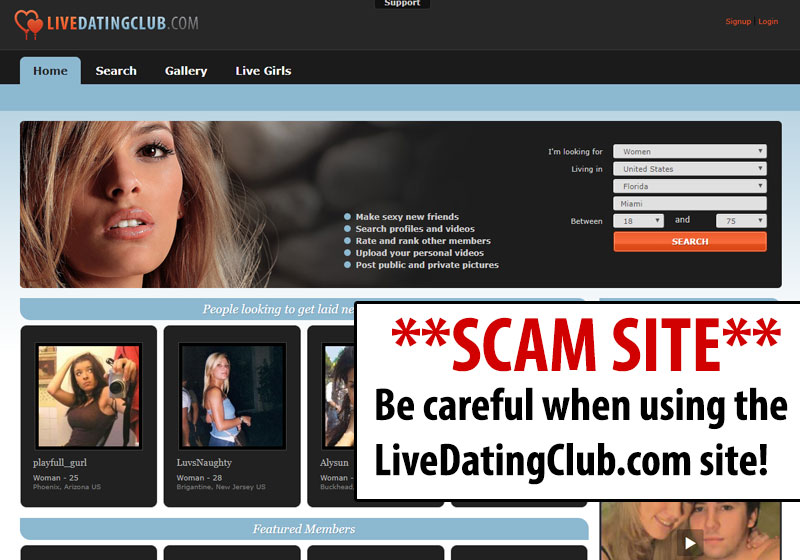 The Live Dating Club Review: Newsflash, It's Completely Dead!
For as big as the internet is, you'd think you could find something new around every corner. That's not the case. It can be a very uncreative place, especially when it comes to scams. The same ones get run over and over again and they end up working all too often. If they didn't work, no one would make a scam site. Since they pop up all of the time, you can imagine just how much money they're worth.
Live Dating Club is just another one of those scams. They do the same old thing over and over again and then cash in the checks. They get more than enough money from it to stay in business and turn a profit. They scam people all over the world and show no signs of slowing down at all. It's easy to see just how it all works.
The Messages Start Like Right Away
It doesn't matter how much effort you put into creating your profile. As soon as you sign up, you're going to start getting messages. They'll be coming from hot women and they'll never slow down. They'll be looking at your profile, emailing you and favoriting you. There's nothing special about you, though. It happens to every single new member on the site.
Everyone is getting the same amount of attention. And it's all for the same reason. You won't be able to message any of these women unless you upgrade your membership. You need to be a premium member to talk to people. That's how the scam operates. The owners create a site that requires you to pay to send messages. Then they send you messages that you can't respond to. None of them are real. They're all sent from profiles that have been put together by the site to message you.
Seriously, Just Look At The Profile Pictures
All it takes is a reverse image search on the profile pictures to see that they're not real. They'll pop up all across the internet. They take them from porn sites, modeling sites and picture sites. They buy them and use them on fake profiles.
Then those profiles send you messages. You see them and upgrade so you can respond to them. It's how the scam works every single time. It's how they make their money. You can find the same scam on 90% of the dating sites on the internet.
Conclusion: Avoid Live Dating Club; It's Awful
The only thing you can really do to keep yourself safe from getting scammed is to stay away from Live Dating Club. There's no reason for you to visit it. It's never going to do anything for you. It only exist to scam the new members.
It wants you to give them a subscription fee for nothing in return. There are no real women on the site. It's only filled with fake profiles that the site itself creates. There are plenty of other sites out there for you to check out instead.