I don't normally cover this type of dating, but today I'm covering a site in the one and only granny dating niche. This site is called Granny Lover and it's one that you'll want to avoid due to the many lies associated with the network. Heck, if I cannot get laid using a dating site then for sure you can't either. I've been at this game longer than you can even imagine and I know what works and what doesn't – simple as that. Read my review of the GrannyLover site to get an idea as to whether or not it's working as it should.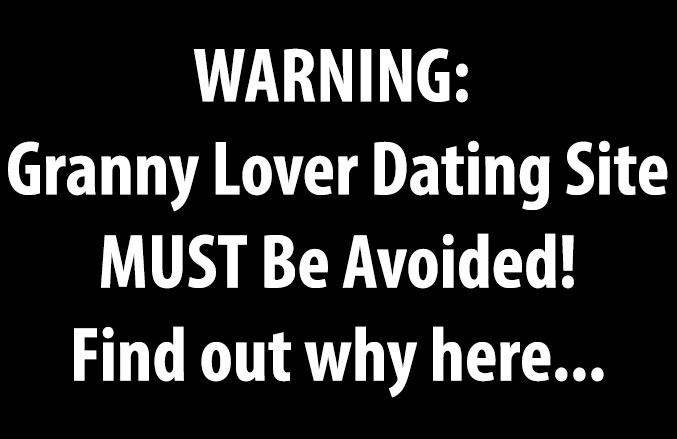 My Experience Using The Granny Lover Network
No reason to prolong things, I'll come right out and say it's a total waste of time and effort. However, don't just take my word for it, check this site review out to get the full scope of just how bad it truly is…
These dating site scams don't even switch up their tactics because they have proven to work well for so long. People think they've seen all types of internet scams, but the reality is that this is a big business that is very successful. These scammers are committed to luring people in and charging their credit cards, and then selling that credit card information on the black market. Grannylovers.com is yet another site that is tied to a wide variety of well-known scam sites. They are successful because they make sure to look like legit dating sites and to copy their features.
They fill the site with pictures of hot grannies to make you think you've stumbled on a gold mine. This couldn't be farther from the truth. Literally every aspect of this site is a fraud. They are trying to lure people in who are desperate to hook up with senior age women. They do things like this because fetish lovers are usually more susceptible to being taken advantage of. However, any basic inspection of this site will reveal its fraudulent nature.
A Constant Barrage of Fake Messages
This site has all the common features of a scam site. You will see message and search functions, and you may get the idea that this is a real place. This couldn't be farther from the truth. They want you to sign up to use anything on this site. You are constantly hit with messages and emails from alleged girls who are begging to talk to you.
The reality is they just want you to hand over your credit card info so they can start charging your card. There is a very expensive credit system that is designed to have you pay for every message you send. You can see how this can quickly rack up to hundreds if not thousands of dollars' worth of charges. This is what they want. To keep you on the site for as long as possible.
Conclusion: Fake Profiles and Photos Prove It's a Scam
This site is apparently filled with model quality older women, with professional headshots. Why would these women be so desperate for action on this site? How did they manage to get all these super-hot older women all in one place? It doesn't make any sense.
It doesn't stop there, as the messages you are receiving are not from real people at all. They are from computer software that's designed to spam you with the same messages over and over, that's why they all seem the same. It's just bots. You don't have to set up your profile in any way to start seeing all of these messages in your inbox.
You have to understand that every interaction on the site is fabricated and it's admitted to in the terms and conditions. The site admits that they may employ third party contractors to run profile and interact with the customers.
They act like this is for promotion but the reality is the site is filled only with fake profiles. They just try to get you stuck with a contractor so that you never leave the site just so you can chat to them. It's a very disgusting practice but it's so common because it works. Be careful with your financial information and avoid this site.
Look, if you want to meet older women, you can do so on this massive network here. Whatever you do, just stay away from the Grannylover.co.uk site because it's awful.